News Products & Equipment Cranes
Liebherr welcomes MK 73-3.1 mobile construction crane to fleet
October 14, 2021 By Crane & Hoist Canada Staff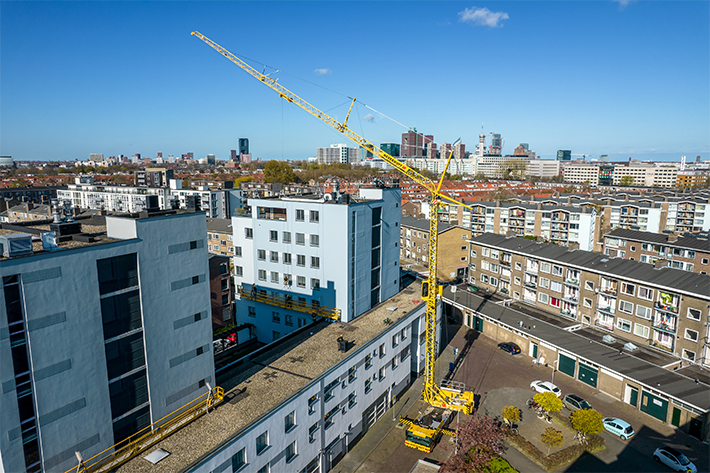 Liebherr has released its smallest mobile construction crane. The MK 73-3.1 is ideal for construction site use as a compact taxi crane.
The hybrid-power, smart-assisted machine can handle multiple jobs in different locations on the same day, and is able to reach construction sites in densely built-up areas.
Measuring 13.80 metres in overall length, 2.75 metres in width and four metres in height, the crane, a sibling to the larger MK 88-4.1, can manoeuvre into difficult areas.
In Haarlem, Netherlands, outside of Amsterdam, the MK 73-3.1 recently helped to create 70 new flats in the densely built-up city centre. It was the crane's task to lift insulated roof sheeting. The MK was able to be positioned in close proximity despite the projecting edges of the angular building.
Fifty kilometres away, another Liebherr MK 73-3.1 had a job in the Hague, where it was responsible for moving painting platforms weighing around 800 kilograms. The mobile construction crane offers lifting capacities of up to 2,000 kilograms at maximum radius, whereby this can be increased to up to 2,800 kilograms depending on the luffed position.
The parts to be moved were located at a height of 20 metres on the roof of a residential building and needed to be moved back a further 30 metres. The painting platforms couldn't be seen from the ground, but this was mitigated by the adjustable elevating cabin. Modern camera systems supported the crane operator during the lifts.
The MK features smart assistance systems such as Load Plus and level luffing in luffed positions.
The crane can also be operated electrically on site or powered by its integrated drive unit. Operation is extremely quiet and emission-free in electric mode.
The MK 73-3.1 is designed for one-person operation and is ready to lift in around 10 minutes. Further transport vehicles aren't required.
---
Print this page