Features Cranes
Proper assembly required: B.C. embarks on tower crane pre-assembly pilot project
July 5, 2021 By Andrew Snook
April 27, 2019 was a dark day for the crane industry.
While working on a Google office building in Seattle, Wash., a tower crane collapsed onto the street below resulting in the deaths of four people and injuring four others.
An investigation by the Washington Department of Labour and Industries found that the companies responsible for the crane did not follow the manufacturer's procedures for dissembling of the crane and had removed dozens of pins prematurely, resulting in its collapse.
This incident impacted many people and organizations in the heavy lifting sector, especially those in the Vancouver area, who live a short two-and-a-half-hour drive away and often travel to Seattle for work and leisure.
"Close to home is the operative phase," says Clinton Connell, executive director of BC Crane Safety.
According to the Rider Levett Bucknall Top in US Markets Crane Index, November 2019, Seattle had 59 erected tower cranes in comparison to the 350 tower cranes (WCB statistics 2019) throughout B.C. in 2019 – 250 of these could be found in the Vancouver Lower Mainland.
When the Seattle crane collapse occurred, WorkSafeBC and BC Crane Safety were in the midst of planning its second tower crane conference – the first one held in March 2018 and the second held in November 2019. Because of the close relationship among these organizations, members of BC Crane Safety and WorkSafeBC invited Brian Haight, DOSH crane compliance manager for Washington State Department of Labor and Industries to make a presentation titled, "Seattle Tower Crane Collapse: Lessons Learned," and shared copies of the then released investigation bulletin.
"Over 160 industry representatives, including tower crane industry suppliers, owners, engineers, erectors and technicians attended and took an active part in the question-and-answer portion of Brian's presentation," Connell says. "Participants who attended appreciated hearing about the investigation updates and the ability to get the current facts to put the incident and the investigation into perspective for tower cranes operating within B.C. This presentation and discussion only underscored the importance of the project work being carried out by BC Crane Safety and its collaborators."
At the same conference, BC Crane Safety's Fraser Cocks presented early work on a collaborative proposal to the City of Vancouver for improved safe work practices on using city streets during tower crane assembly-disassembly work.
That proposal stemmed from a meeting held between WorkSafeBC, BC Crane Safety and other industry representatives earlier that year, where discussions centered on concerns related to crane assembly and disassembly processes.
The two organizations came up with the concept of revising the current assembly/disassembly checklist to make completion of the list not only mandatory, but to also better coordinate street usage needs such as: street closures; traffic control; pre-planning operations and responsibilities; and discussion of issues like being how to better keep workers safe during assembly process, some cities not allowing road closures, and not being able to take cranes down during reasonable hours, explains Connell.
Following this meeting, a core group that included representatives from the IUOE, crane owners, WorkSafeBC Crane/Equipment Team and BC Crane Safety, met over in the final months of 2019 with City of Vancouver representatives.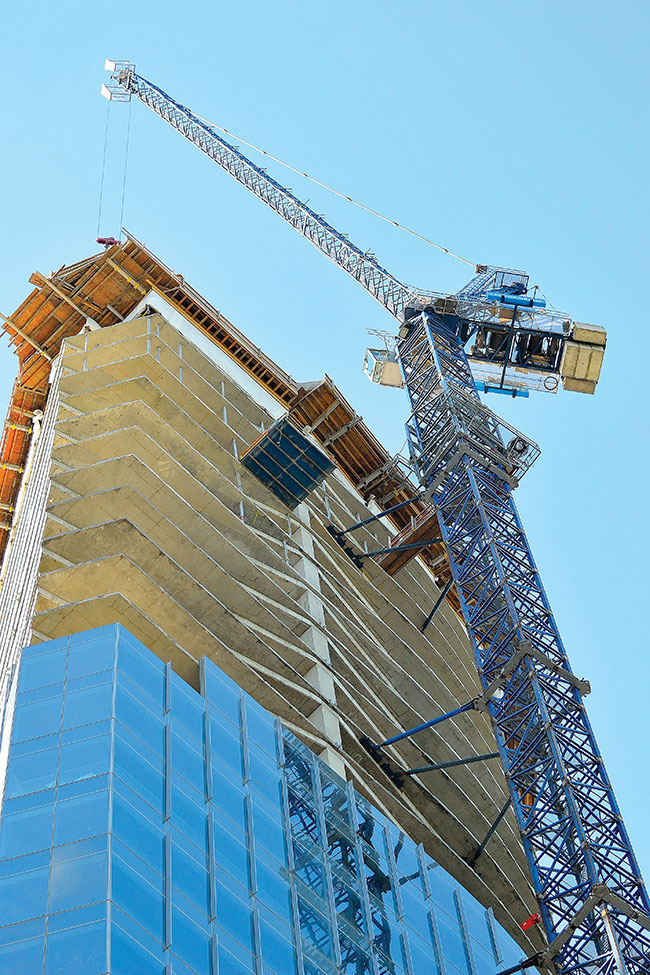 The groups then met in person over the course of early 2020, and then via email throughout the pandemic, to flesh out and work out the details of the checklist and supporting bulletins.
"There were not many challenges in developing the concepts, landing on minimum standards and requirements, though it took time working with the City of Vancouver so they could understand the needs of the crane community and balance these operational needs with their other stakeholders and city operational requirements," Connell explains. "There were concerted efforts by both WorkSafeBC's Crane/Equipment Team and BC Crane Safety's management team to come to an equitable resolution to protect the safety of crane workers as well as members of the public."
As part of the pilot project, a new Tower/Self-Erect Crane Pre-Assembly Requirements Checklist has been set up to accompany permit applications.
The new checklist is broken down into several categories, each with multiple questions determining who are the responsible parties for various actions. The options listed as those responsible include: owner/supplier; erector; general contractor; user; mobile crane; or other.
The categories for the various questions are broken down into the following sections:
Crane base: Type and support;
Crane position: Proximity to crane, structures and public areas;
Emergency preparedness;
Worker and equipment safe work systems;
Worker orientation and training; ans
Crane components.
There is also a sign-off section for the owner, assembly/dismantling supervisor, general contractor, primary operator and mobile crane.
As part of its updated requirements, the City of Vancouver is now requesting:
60 days of lead time be required for permit applications;
A traffic control plan be submitted directly to: streetusereview@vancouver.ca;
30 days of notice are required for a site kickoff meeting;
The submission of a crane assembly/disassembly plan with steps/key dates outlined; and
The submission of drawings showing crane locations (tower and mobile), their respective swing radii, and approved Traffic Management Plan (layered, if possible).
The pilot project currently has no specified end date, though it was tentatively discussed as possibly a six-month project, Connell says.
"Early discussion on the results illustrated the checklist and the form works because stakeholders were carrying out better planning, respecting the time requirements of city and constructing contracting firms," he says. "City representatives were pleased with the engagement of all parties. The regulator, WorkSafeBC, reported a lot of interest in inviting a WorkSafeBC Crane/Mobile Equipment team member to planning meetings and crane stakeholders were reporting better communication on requirements and determination of assembly/disassembly responsibilities."
BC Crane Safety views this new checklist as a useful tool for the industry right across Canada.
"The principles, procedures and standards are applicable across Canadian jurisdictions, or, if required, could be modified to suit the regulatory requirements of a particular province or territory," Connell says. "BC Crane Safety has shared this checklist with jurisdictions outside of B.C., like Washington state, who are very impressed with the checklist and the pilot project with the City of Vancouver."
A truly collaborative effort for improving safety
August 2019: WorkSafeBC Prevention – Crane/Equipment Team and BC Crane Safety host the kickoff meeting.
October 2019: International Union of Operating Engineers Local 115 and BC Crane Safety created a proposal to the City of Vancouver to strengthen its permitting processes for the assembly and disassembly of the tower cranes within the city. Along with this proposal, IUOE and BC Crane Safety developed a comprehensive communication plan to ensure key messages were consistently used in discussion of the proposed project/pilot.
November 2019: BC Crane Safety and WorkSafeBC Prevention and Consultation and Employer Services Divisions (formerly Industry and Labour Services) hosted the second Tower Crane Conference and made a presentation on the development of this checklist/proposal.
Fall/Winter 2019: IUOE, BC Crane Safety, Coupal Cranes and Kansen Crane Service created and submitted its proposal to the City of Vancouver's permitting standards for the assembly and dismantling of crane towers to improve public and worker safety and reduce the types of hazards that were present at the tower crane collapse in Seattle.
A number of meetings were held with various representatives of the City of Vancouver (engineering services, traffic planning, construction review, safety) in person until most business and places shut down in March 2020. The City of Vancouver's position was they were willing to discuss this proposal further, however discussed that improved planning requirements will be required.
While this group met a number of times over the course of 2020, a separate group worked on the development of the checklist, including: Bigfoot Cranes, Titus Cranes, Coupal Cranes, Micron, Leavitt Cranes, Legions Rigging and Lifting Ltd, Opticrane, IUOE, BC Crane Safety and WorkSafeBC's Crane/Equipment team.
The checklist was then finalized and posted on the BC Crane Safety website and loaded on to USBs to support the association's serparate "Level Up, Own Your Lift" self-planned inspection program.
*Courtesy of BC Crane Safety.
---
Print this page