Features Cranes
Powerful boom on seven-axle crane makes quick assembly possible without bracing
September 20, 2022 By Don Horne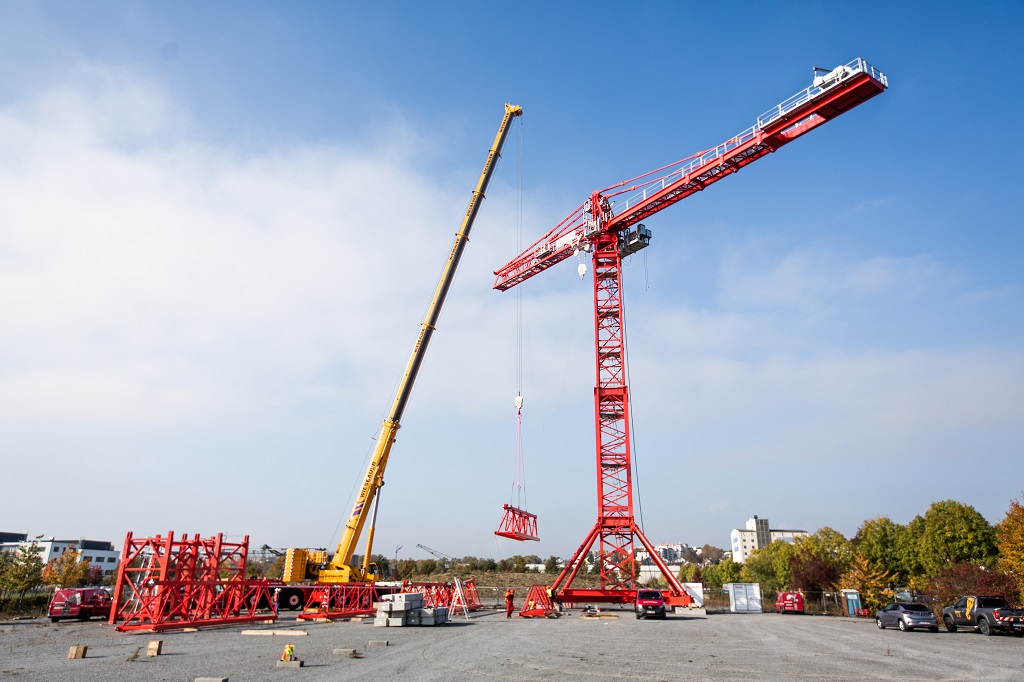 The job was very clearly defined: The construction crane had to be erected under realistic work site conditions from a single location with the smallest amount of effort possible and as quickly as possible.
Accordingly, the team at Wiesbauer quickly figured out that no crane would be able to meet these requirements better than its new Tadano AC 7.450-1: In fact, the unit's compact outrigger configuration and fast setup times meant that it immediately met two important requirements.
However, its enormously powerful main boom was also a crucial factor, as it made it possible to lift even the heaviest loads for the job without a superlift system.
"Theoretically speaking, we could have also erected the construction crane with a 350-tonne crane. However, that would have needed bracing, and that would have made the setup time longer by up to four hours," explains Christoph Kriegel, who is part of Wiesbauer's technical field staff.
It is also worth mentioning at this point that his company also decided on a Tadano model for the assist crane: an ATF 70G-4 all terrain crane.
One-hour setup for the AC 7.450-1
Since the AC 7.450-1 would be able to take care of the lifts without a lot of accessories, the Wiesbauer team only needed two lowbed trailers and two trucks to transport everything to the work site. Setting up the crane was just as quick, and in fact only required two assembly technicians: After a single hour, the crane was ready with the necessary configuration, featuring a 59.80-meter boom and 100 tonnes of counterweight.
The one-of-a-kind Tadano Surround View system with its six cameras proved to be enormously advantageous when positioning the crane and taking care of the lifts later on.
"The system simply makes it a breeze to position and drive the crane – you can see the outriggers and the slewing radius while keeping an eye on all obstacles around you," says crane operator Jannik Weigl, who goes on to point out another advantage when positioning the AC 7.450-1: "If needed, you can move the crane at the work site with up to 140 tonnes of counterweight and the hook block installed and cut down on setup time as a result."
27 tonnes at 23 metres
Since the Wolff 8076 Compact prototype had an impressive height of 44.10 metres, the AC 7.450-1 had to reach a hook height of at least 54 meters to get the job done. Not a problem for the Tadano crane and its 80-meter-long main boom when working at radii of 12 to 23 meters.
And just as expected, it was also able to easily lift the heaviest component of the Wolff construction crane – the counter jib with a weight of 27.3 tonnes – without a superlift system.
"That really shows just how powerful the crane is," Christoph Kriegel points out. "Everything just went perfectly smoothly during the lifts – even with the biggest loads, the AC 7.450-1 handled everything with precision and accuracy at all times. It really is an amazing machine," says Jannik Weigl, whose enthusiasm for the crane is plain as day.
Michael Engert is also extremely happy with how the assembly process for his prototype went.
"The AC 7.450-1 really outdid our expectations. We saved a lot of time with it not only by being able to forego any bracing, but also thanks to its enormous power and how that made it possible to complete the lifts quickly. In other words, the Tadano AC 7.450-1 is the perfect crane for erecting large construction cranes as far as we're concerned," says Engert.
---
Print this page