June 27, 2023 By Don Horne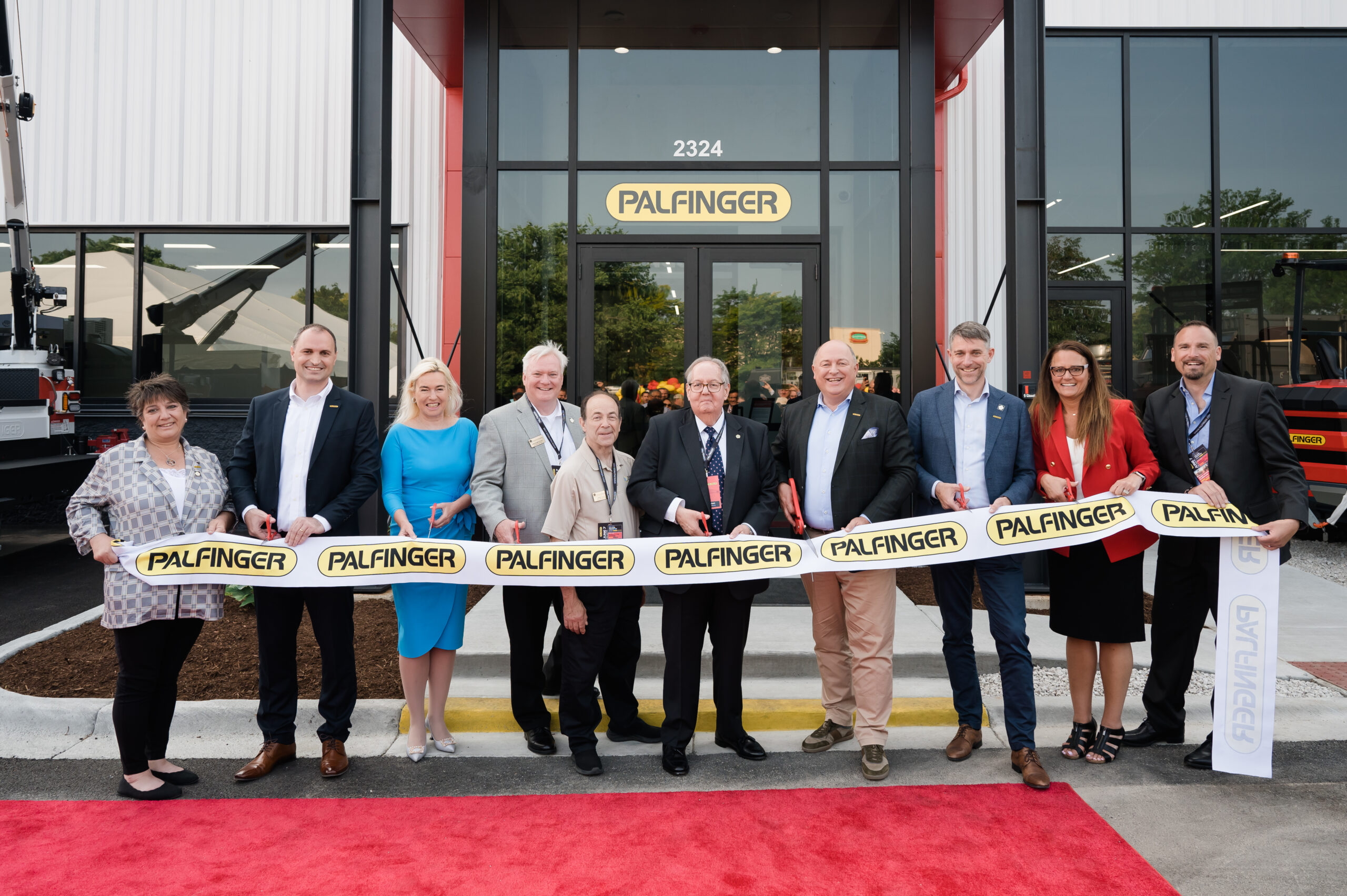 State-of-the-art facility part of company's strategic goal to become number one in North America's lifting industry
PALFINGER's new regional headquarters in Schaumburg, Ill. has been designed to "pave the way"nto thrive in North America.
Being a dominant player in the region since 1989, the world's leading provider of innovative crane and lifting solutions is now setting out to become number one in North America.
"We are here to stay and grow. Led by our strong focus on our customers, we will use the next five years to significantly increase our North American market share in all product segments and show what we are capable of," said PALFINGER CEO Andreas Klauser during the opening ceremonies.
By establishing a new headquarters in Illinois, PALFINGER is combining its European technologies focusing on product quality, and sales and service training expertise with a strong North American footprint.
The company already has a broad sales and service network across the region, a mobile service fleet of over 100 vehicles, four manufacturing sites and 15 locations that offer custom-built solutions.
"We are excited that PALFINGER is bringing its new North American headquarters to Schaumburg. We are honoured to be chosen as the location for PALFINGER's regional expansion, and we look forward to the opportunities and positive impact it brings to our community. The decision to establish the headquarters here is a testament to the remarkable potential and countless advantages that the city offers. We wish PALFINGER much success," says Schaumburg Mayor Tom Dailly.
The management team around Ismael Daneluz, Vice President of Sales & Service Region North and Latin America, is composed of five additional managers, who will guide and drive the organization forward.
"Opening the new North American headquarters reflects our commitment to PALFINGER's second biggest market. We aim to serve our customers better than ever before, to strengthen our presence, and further expand our operations in North America, driving innovation and delivering industry-leading solutions to meet the evolving needs of our valued customers and partners," said Ismael Daneluz.
Facilities set for the future
At the heart of the new headquarters is its advanced training center, which offers an unrivaled sales and service training program. Equipped with two state-of-the-art training rooms, the training center can accommodate up to 90 people at a time.
These cutting-edge spaces provide the ideal environment for interactive and collaborative learning experiences. Complementing the training rooms, PALFINGER's headquarters boasts a modern product operation and hands-on service training area, complete with an indoor vehicle display. This dedicated space allows trainees to gain practical, real-world experience with PALFINGER equipment, ensuring they are well-equipped to meet the demands of their respective industries.
PALFINGER also introduces a virtual reality training experience area, revolutionizing the way operators learn to handle lifting equipment. This immersive technology enables trainees to operate a wide range of equipment without prior experience, fostering a safe and efficient learning environment. To further enhance the brand experience, the headquarters features a "Fan Shop" where visitors can get exclusive, limited-edition PALFINGER-branded items and apparel that reflects the company's commitment to quality and style.
---
Print this page