AEM announces a pair of recent safety manual updates for it's Aerial Platform Safety Manual (now titled Mobile Elevating Work Platform Safety Manual) and Mobile Crane Safety Manual.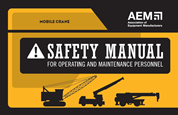 "We appreciate our member companies and their product safety experts for their efforts in developing, reviewing and approving these updates, ensuring they truly represent best practices for safe equipment operation," said AEM Safety Materials Manager Becca Basten.
AEM's safety materials are consensus documents that are developed, reviewed and approved by committees empaneled by AEM, and they represent best practices for the industry. The safety materials include more than 55 unique manual titles, and they extend to additional collateral such as videos, brochures, decals and training kits.
In many cases, the manual is often assigned a part number in a manufacturer's production process to ensure it is included with other safety literature when the equipment is sold into market.
"This integration with the manufacturing process helps AEM member companies by reinforcing their already existing risk management programs," added Basten.
Manuals are put up for review every five years. Sometimes, a title's scheduled review is skipped if no updates are requested by members at AEM product group meetings. Other times, reviews can take longer than expected.
When its first safety manual was published in 1969, AEM (then known as CIMA) established a foundation a safety materials program that has grown exponentially over the 50 years that followed.
The intent at that time was for the association to provide end users with a safety manual that complemented its members' OEMs' publications and that represented the industry's best practices for equipment safety. It was an auspicious idea: To provide consensus-based safety documents that were developed, reviewed, and approved by association members who, although they competed in the marketplace, would work together to publish best practices for operating equipment safely.
"AEM has many points of engagement with its members, from trade shows to statistics and advocacy," said Basten. "We can say the same for the safety materials program, a service area in which approximately nine out of 10 AEM members who manufacture large off-road equipment make use of safety materials developed by the association and their peers."
---
Print this page