Features
New noise rules in Toronto
March 2, 2020 By Grant Cameron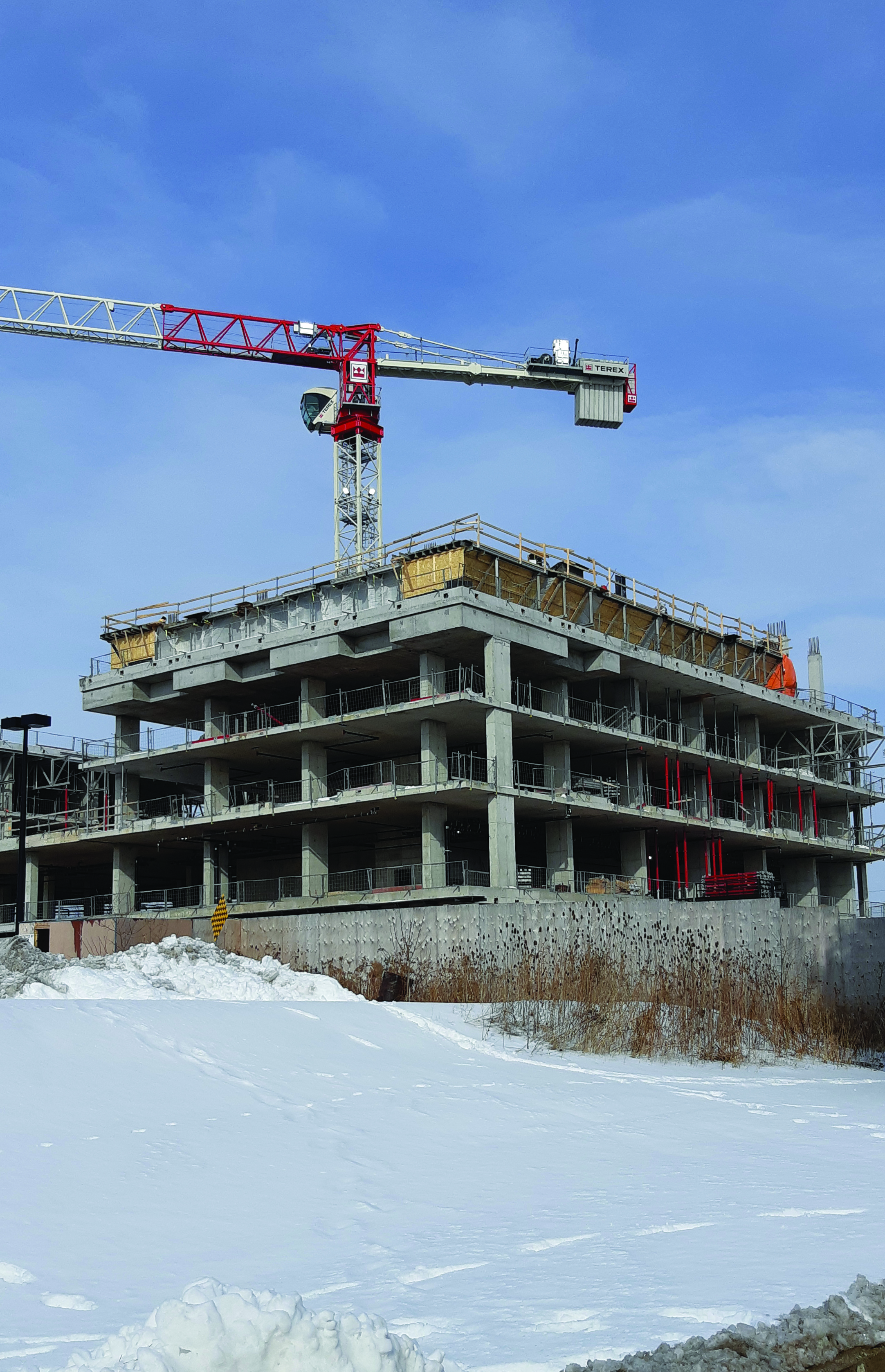 Crane companies, contractors and operators that want to do concrete pours for high-rise buildings in the City of Toronto beyond normal working hours must now abide by strict new noise rules or face hefty fines.
The city has amended its noise bylaw and firms must apply for a special noise exemption permit well in advance of a continuous concrete pour if they intend to have large cranes operating on sites beyond 7 p.m.
Contractors planning to work beyond that hour must file a plan, outlining the reasons for an exemption and steps being taken to lessen the noise.
Besides the permit application, the city can request a statement certified by a professional engineer or acoustical consultant for any sounds that are deemed not technically or operationally feasible to control.
"The pouring of concrete and large crane work will still be able to occur; however, it will not be as-of-right," says Nadia Todorova, director of government relations at the Residential Construction Council of Ontario (RESCON), which represents the interests of both low- and high-rise builders in the province.
"Organizations that need to work beyond the permitted hours of construction will need to apply for a noise exemption permit and comply with the additional stipulated requirements."
Prior to the change, continuous concrete pouring and large crane work were exempt from the city's noise bylaw. Amendments enacted by city council last June to make the noise bylaw easier to understand and enforce include provisions that restrict the hours contractors can do work without a permit.
Ideally, RESCON would have preferred status quo so that continuous concrete pouring and large crane work remained a right because of concerns the change will slow down work on the much-needed supply of housing stock. However, city councillors, staff and residents pushed back on that and the association worked out a compromise that would allow the companies to still do the work if they have a permit.
Breaking the rules will be costly. Every person who contravenes the noise bylaw or fails to comply with an exemption permit can be fined up to $100,000. When a corporation breaks the rules or fails to comply with a permit, every director or officer involved in the operation can be on the hook for a $100,000 fine.
The changes came into effect at the end of 2019 and remove exemptions for certain activities from the noise bylaw. They restrict builders from doing concrete pours or using heavy cranes for work after 7 p.m. and before 7 a.m. on weekdays, and until 9 a.m. on Saturdays, and all day on Sundays and statutory holidays.
Crane work includes the erection and dismantling of a crane or any other crane work. Continuous pouring of concrete applies to slip-forming, and deck pour or pre-pour operations that can't be interrupted once operations have started.
Todorova says the new permitting process is a departure from the ways things have been done since 2006 when the last review of the noise bylaw took place.
"It is a change to the status quo and requires a learning curve for both industry and the city," she says.
Under the rules, builders will need one exemption permit for the overall duration of a project, which outlines approximate dates as to when the activities will occur. The builders do not need a permit for each individual continuous pour or concrete-finishing activity that goes beyond 7 p.m.
After a permit is granted, a builder must then distribute a notice of the permit to those within a 120-metre radius of the activity at least seven days prior to the event or activity taking place. The notice can be distributed through Canada Post, which can customize mail-outs for a specific geographical area.
The mailouts shouldn't be too onerous for builders, says Todorova, because many builders already undertake very similar notice-distribution techniques in the neighbourhoods in which they are building.
RESCON, for example, has members that distribute weekly status emails to the presidents of local neighbourhood associations, municipal councillors, noise bylaw officers and traffic management leads.
However, contractors need to think ahead and apply for a permit at least one month before the work is set to start, to reflect the fact that city staff could have some followup questions or might need more information.
Paul De Berardis, director of building science and innovation at RESCON, says builders who have already gone through the process report it takes about two to four weeks to receive the approved permit.
A big change for contractors is the prospect of facing very stiff fines if they don't comply with the law, he says, noting that the city is hoping the penalties will be enough of a deterrent to ensure they comply with the rules and also that they will promote more communication with residents near a work area.
"When we were going through this process one of the complaints from residents was that they didn't know why work was occurring after hours and whether it was permitted or not. There will be a lot more open communication and dialogue and hopefully that addresses some of the concerns of residents."
De Berardis says while the builder is technically the one who should apply for a permit, there needs to be communication with the concrete forming contractor who then hires crane operators to do the work.
"There's a contractual obligation between the builder and the trades and I'm hoping that message is conveyed down through all the different levels in an organization so people are obviously aware."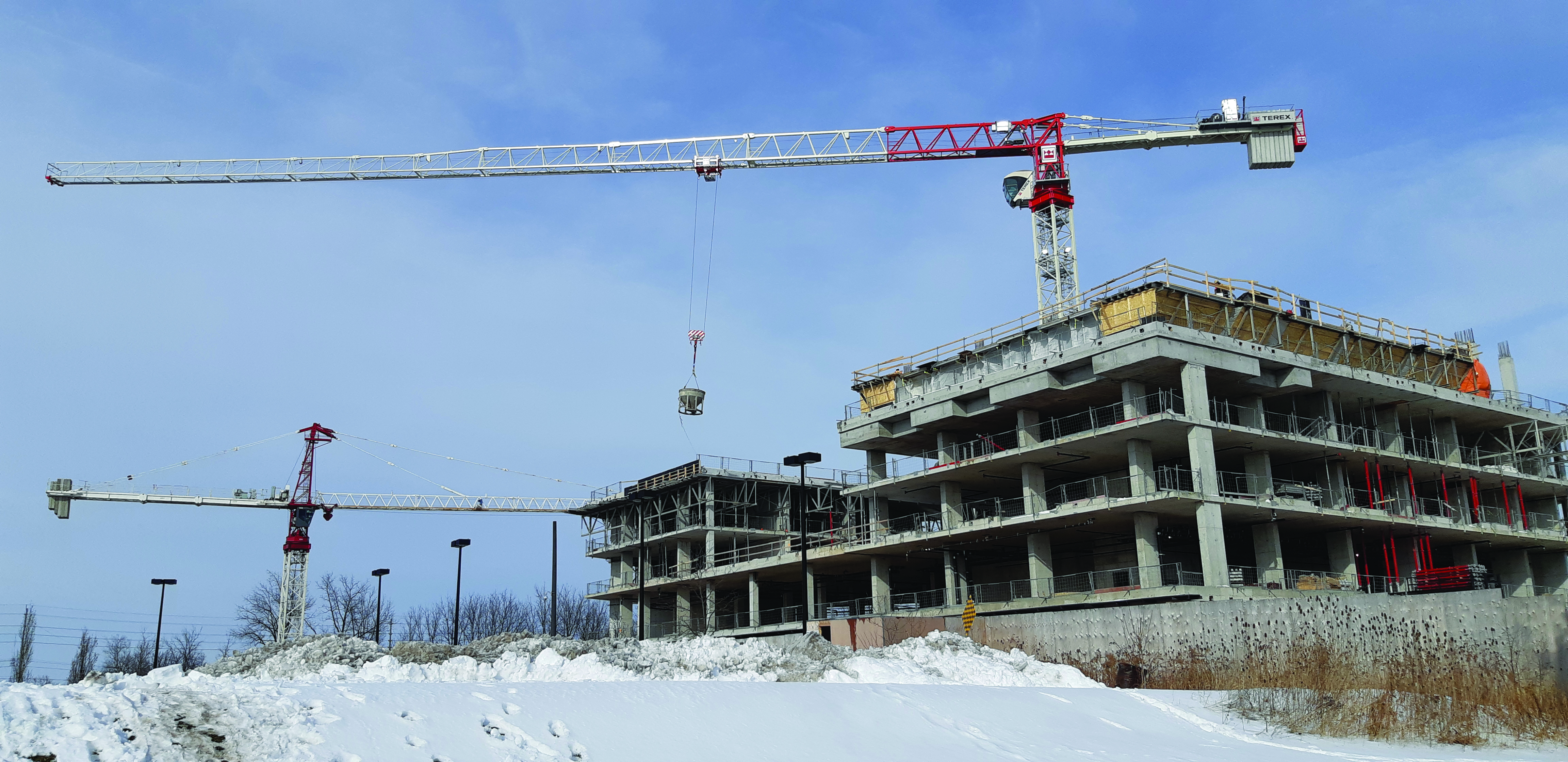 Todorova notes that RESCON worked closely with municipal licensing and standards (ML&S) staff to ensure the new rules and process do not cause problems or interrupt high-rise construction.
Original changes proposed to the noise bylaw were much more stringent around continuous concrete pouring and large crane work. For example, the permit duration was originally capped at three months in the proposal, which would have required builders to apply for a permit to pour concrete every three months for the duration of a project. Further, the approval for the permits was going to be done by a local councillor.
"If these changes had gone through, they could have had an unpredictable and adverse impact on the building industry and would have put thousands of construction jobs in jeopardy," says Todorova.
RESCON arranged site visits so city staff could get a first-hand look at the equipment and high-rise building process and construction-related noises that occur. The organization is planning to organize more sites visits for ML&S staff to keep the lines of communication open, Todorova says, however the city appears to understand the importance of the issue, as more noise bylaw inspectors have been hired.
"We have been engaging closely over the last several months with ML&S to ensure that city staff understand the importance of this exemption permit and its crucial nature to the overall building process.
"We will continue to work collaboratively with ML&S staff as the permit system fully rolls out and will be monitoring carefully through our members the permit application process and the noise mitigation measures associated with it."
---
Print this page