News
iiconSOUTHEAST works in Virginia for new bridge project with 238 HSL
October 1, 2019 By Link-Belt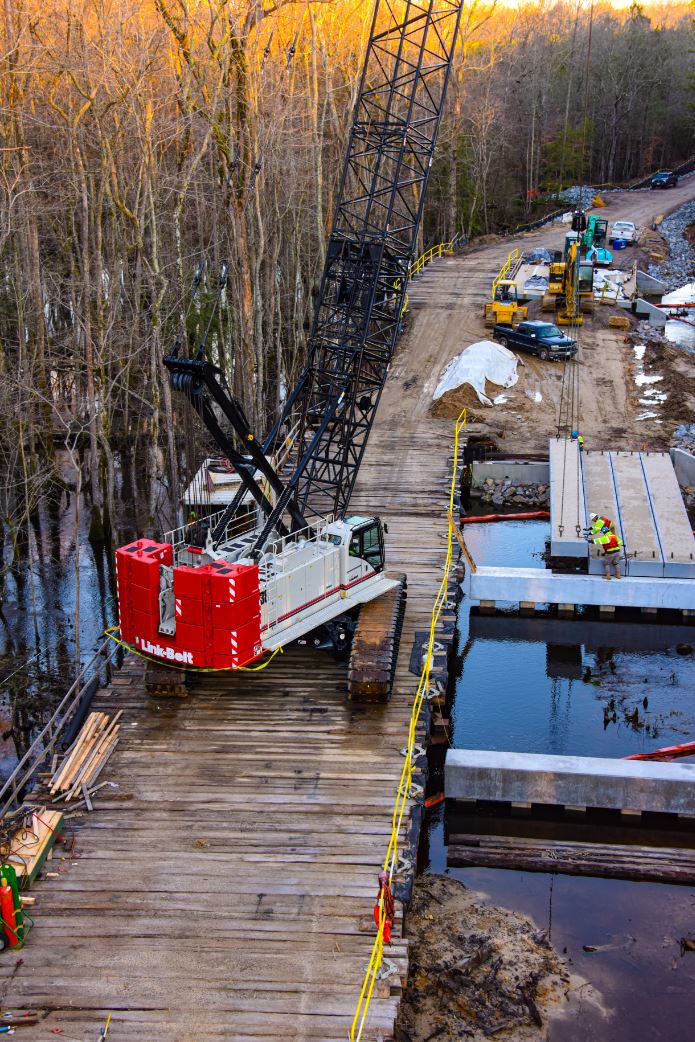 Oct. 1, 2019, Lexington, KY – iiconSOUTHEAST of Virginia Beach, VA rented a new 150-ton (136.08-mt) 238 HSL lattice crawler from Link-Belt Mid-Atlantic for multiple Virginia Department of Transportation bridge projects on the Blackwater River, near Wakefield, Virginia.
From a temporary 300 ft. (91.4 m) long trestle built within right-of-way space of the existing bridge, the 238 HSL demolishes the old bridge, drives up to 80 ft. (24.3 m) long piles, and lifts into place new structural beams.
The batter pile angle is set using one template guide just above water level, and a second ten feet above. Two bridge abutments and five piers support a six span concrete girder bridge, with each pier consisting of six piles and a pier cap. For pile soil displacement, a vibratory hammer with 8,000 lb. capacity force is attached to a tubular stem for pilot holes prior to pile installation. A smaller crawler lifts 20 sq. in concrete pile and places into the leads of the diesel hammer. The 238 HSL then lifts a 26,000 lbs. (11 793 kg) diesel hammer with 88 ft. (26.8 m) long leads at the same angle. Once the pile have been driven, the 238 lifts beams weighing up to 33,000 lbs. (14 968 kg) at an 80 ft. (24.3 m) radius, turns 160 degrees and lays them on the trestle.
In addition to pile driving work, the 238 HSL is used for concrete bucket work, pier cap rebar cages, and prefabricated formwork to complete bridge pier caps. Finally 48,000 lb. (21 772 kg) concrete slabs forming the bridge deck are placed, six panels for each of the six spans.
"My brothers and I have been in the same industry for many years, and we have always been Link-Belt crane people. Every company I've worked for in this industry uses Link-Belts, they're a proven commodity to me, and so is the local dealer," Sarah Jones, equipment manager i+iconSOUTHEAST.
Link-Belt Cranes, with headquarters in Lexington, Kentucky, is a leader in the design and manufacture of telescopic boom and lattice boom cranes for the construction industry worldwide.
Complete crane specifications are available at www.linkbelt.com.
---
Print this page