News
Multi-Craft Operates ATC-3210 in Northwest Arkansas
October 1, 2019 By Link-Belt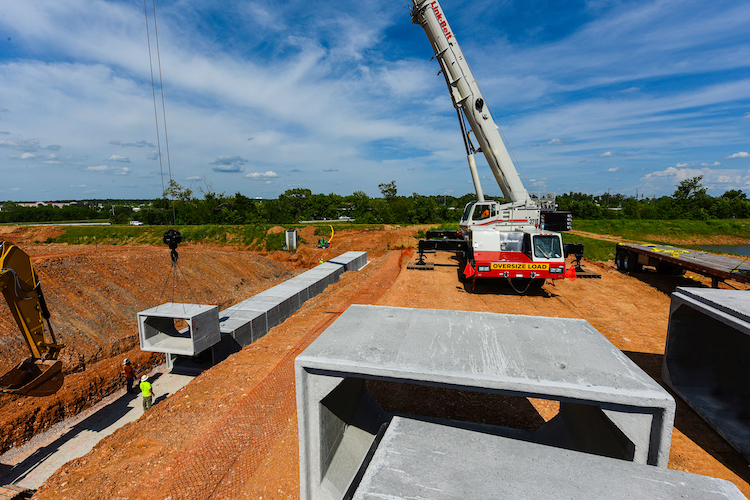 Oct. 1, 2019, Lexington, KY – Multi-Craft Contractors, Inc. of Springdale, Arkansas completed purchase of a Link-Belt 210-ton (185-mt) ATC-3210 all-terrain crane in order to meet growing lifting demands of Northwest Arkansas.
Multi-Craft began operations in 1972, and services mechanical, electrical, fabrication, and HVAC industries, along with other commercial and industrial needs.
A recreational facility in Rogers, Arkansas requires the ATC-3210 lift into place 900 ft. (274 m) of 19,000 lb. (8 618 kg) box culverts for drainage that will flow into a nearby storm water basin. The pre-dug trench is 19 ft. (5.7 m) deep and side sloped with the ATC-3210 lifting culverts up to a 70 ft. (21 m) radius with 168 ft. (51.2 m) of boom out.
Operator Weston Glenn said the arrangement for the first box culverts was critical to keep the boxes aligned properly. Once the first few sections are in place, all others interlock accordingly.
"I love the machine. It is strong, and the fine metering is an awesome feature. This new all-terrain gives you more freedom with the controls. With fine metering in place, you barely push it or push it all the way, it is only going to go so slow or so fast. It has great stability and handles well riding down the road with its hydraulic suspension," Glenn stated.
Customer Input
Multi-Craft stays busy with a varying list of applications since taking ownership of the new ATC-3210 in late 2018. From work on cell towers, boiler replacement, and HVAC maintenance, Multi-craft utilizes the versatility of the ATC-3210 by sending it out with a three-piece offset fly, renting it down with 58,000 lbs of counterweight, or using a boom-dolly to mobilize to nearby Joplin, Missouri.
"Link-Belt listens to operators and customers and builds to those needs. I did a load chart comparison with the same amount of counterweight; same amount of boom for the projects we encounter most, and Link-Belt out-charted the competition between 100 – 180 ft. (30.4 – 54.8 m) radii. This 3210 is in the 'sweet' spot for our projects. As a result, we can use less counterweight requiring fewer trucks. That's a cost savings for us and the customer," said Crane and Rigging Manager, Ed Clifton.
"We've had excellent service from Link-Belt and Lyle Machinery. Even our older machines that date back to 2006 – we have received parts within a day if quickly needed. Service is important to us. Having the part overnighted is an advantage while other competitive brands usually take several days to get parts. Link-Belt's parts warehouse is pretty massive," said Clifton.
Link-Belt Cranes, with headquarters in Lexington, Kentucky, is a leader in the design and manufacture of telescopic boom and lattice boom cranes for the construction industry worldwide.
Complete crane specifications are available at www.linkbelt.com.
---
Print this page