May 15, 2019 By Bridgestone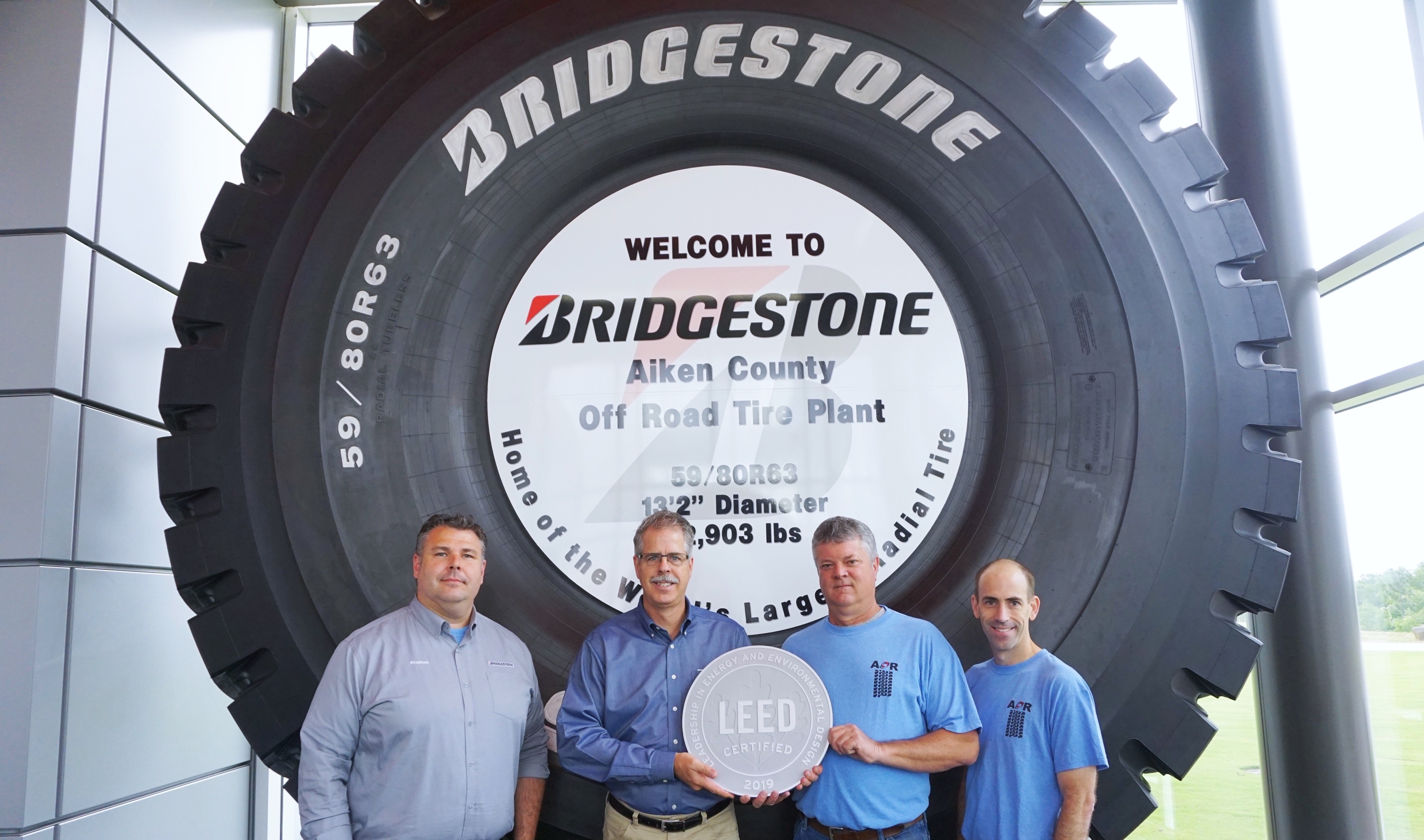 Bridgestone Americas, Inc. 
(Bridgestone), a subsidiary of Bridgestone Corporation today announced that its Aiken County Off-Road Tire Plant (Aiken ORR), located in Trenton, S.C., has been awarded Leadership in Energy and Environmental Design (LEED) certification by the U.S. Green Building Council (USGBC). LEED recognizes buildings that are designed, constructed, and operated for improved energy, environmental, and human health performance.
LEED is the world's most widely used green building program with more than 94,000 registered and certified projects in 167 countries and territories.
 
"LEED certification identifies the Aiken County off-road tire plant of Bridgestone Americas, Inc. as a showcase example of sustainability and demonstrates your leadership in transforming the building industry," Mahesh Ramanujam, president and CEO, USGBC, said.
 
"Aiken ORR's LEED certification is further recognition of our innate culture to pursue fully sustainable operations and help ensure a healthy environment for current and future generations," Jim DeMouy, vice president, environment, health, safety and sustainability, Bridgestone Americas, said. "This plant's commitment to environmentally sustainable practices epitomizes our entire company's global corporate social responsibility commitment, Our Way to Serve."
 
Aiken ORR achieved LEED certification for implementing sustainable solutions aimed at achieving high energy and environmental performance. More notable achievements include initial site location selection, preferential use of local and more sustainable materials, finding beneficial reuse opportunities for 92 per cent of the construction debris and 100 per cent of the manufacturing discarded materials, and using Firestone Building Products (FSBP) pond liner to create a rainwater harvesting system that captures and uses roof runoff water. As a corporate citizen, the Aiken ORR plant conducts neighborhood roadside cleanups, manages its site to restore the Longleaf Pine Savannah Habitat, and provides onsite STEM education for school children through Bridgestone Environmental Education Program (BEEP).
 
Bridgestone built its first giant off-road radial tire manufacturing plant in North America in Trenton, S.C. The 1.5-million-square-foot manufacturing facility employs 450 people and began production of large and ultra-large mining and heavy equipment radial tires in 2014. Tires produced at this plant equip heavy haul trucks that carry enormous loads in mining and aggregates applications. Bridgestone also operates the Aiken County Passenger/Light Truck Radial Tire Plant in Graniteville, South Carolina, producing passenger and light truck tires for original equipment manufacturers and retail since 1998.
 
In total, Bridgestone has eight LEED-certified locations including both South Carolina tire plants and another one of its manufacturing plants in Warren County, Tenn. The Warren County tire manufacturing plant began operations in 1990 and first earned the LEED certification in 2008, becoming the first tire plant globally to achieve this designation.
---
Print this page