Products & Equipment
Annual crane conference set to convene in Calgary
May 11, 2016 By Keith Norbury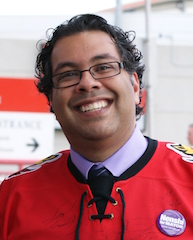 Not one but two mayors of major Alberta cities are scheduled to speak at the Crane Rental Association of Canada's annual conference taking place this June in Calgary.
Calgary Mayor Naheed Nenshi and Edmonton Mayor Don Iveson are scheduled to share the
podium at 9 a.m. on Friday, June 3 in Imperial Room 123 of the Hyatt Regency Calgary.
Claire Bélanger-Parker, executive administrator of CRAC, didn't want to focus much attention on the mayors, however. She pointed out that participation of such high-profile figures is always conditional given that they could be called away on other urgent business at the last minute.
"I really don't want to focus on this too much because if it doesn't happen, if one of them gets pulled away for other business, it would be so disappointing," Bélanger-Parker said. "I'd rather it be a nice surprise than a disappointment."
The association has other surprises in store for attendees at its 18th annual conference, which runs from June 1 to 4. It kicks off with CRAC board of directors' events on the first day, followed the next day by the annual CRAC golf tournament and an outing to the Royal Tyrrell Museum of Paleontology.
Both of the Thursday events take place in the badlands of Drumheller, about 135 kilometres northeast of Calgary.
Conference offers discovery opportunities
Bélanger-Parker said that current CRAC president Ron Osterman, who is president of Alberta-based Sterling Crane, wanted to showcase the Drumheller Valley to conference participants, something that hadn't been done before.
"I think it will be a good experience for everyone to discover that part of the province," Bélanger-Parker said.
The golf event takes place at the Dinosaur Trail Golf & Country Club, which features tee boxes and greens set amid the rugged and ancient landscape of the badlands. The visit to the Tyrrell museum, meanwhile, is part of the conference's Jurassic Experience, which also includes a tour of the badlands and its hoodoos.
Separate registration is required for the golf event and the Jurassic Experience, which each include a breakfast box, lunch, and transportation to and from the hotel.
Back in Calgary, the conference has a full lineup of speakers and presentations on Friday and Saturday.
Bélanger-Parker is optimistic that both mayors will be able to attend and speak for the 45 minutes they have each been allotted.
"Both of them are young, very dynamic and very engaged and it would certainly be wonderful to have both of them," she said.
Petroleum a main topic of discussion
Also on the docket for Friday is a speech by Tim McMillan, president of the Canadian Association of Petroleum Producers. Again that presentation is conditional. However, CAPP has assured CRAC that should McMillan be called away the petroleum association will send a senior advisor in his place.
Bélanger-Parker said CAPP's presence at the conference is important because of the state of the petroleum industry and the effects of depressed world oil prices on the economy in Alberta and beyond.
"It's affecting us across Canada," she said. "It's not just Alberta. I can tell you that our members in Quebec and New Brunswick are feeling the same crunch as our western companies."
That said, the conference is aiming to sound a positive note. Early registration has been at about the same pace as in previous years, she said. Last year's conference in Montreal drew about 235 attendees while the 2014 conference in Whistler, B.C., set an attendance record of 308.
"I do believe that sometimes in difficult times people need to meet more. They need to reconnect together. And maybe the conference will be a good time for them to reconnect with colleagues in the industry," Bélanger-Parker said.
One venue to do that will be the ever-popular Spreader Bar, which this year takes place in an area set aside for CRAC next to the hotel's existing lounge.
"So we are actually getting quality service from the existing lounge. And service to the restaurant as well will be accessible to members in the evening."
The Spreader Bar convenes each evening during the conference at 8 p.m.
Sessions focus on safety
Other conference highlights include a safety panel discussion at 10:45 a.m. on Friday that will focus on boom dollies — an issue that was raised at last year's conference. On a similar safety note, Jim Wiethorn, principal engineer at Tex-based Haag Engineering, will review his detailed research into hundreds of crane accidents. Wiethorn literally wrote the book on the subject, a tome titled, Crane Accidents: A Study of Cranes & Trends to Create a Safer Work Environment, 1983-2013. His two-hour presentation begins at 1:30 p.m. on Friday.
"He's always the top gun to be invited to review accidents sites around the world," Bélanger-Parker said. "So his presentation will be invaluable for our members. We're looking forward to hearing him."
The next day, Tony Niese of Nelson Manufacturing, a company that makes boom dollies, will be among the industry presenters. Other industry presenters on the schedule are Bill Stramer of Link-Belt Construction Equipment Company, J.D. Hughes of Kobelco Cranes North America Inc., Jeffrey Curran of Fleet Cost and Care Inc., and Beth O'Quinn of the Specialized Carriers & Riggers Association.
The SC&RA recently published a guide for mobile cranes that Bélanger-Parker said would be of interest to CRAC members. "And they're good partners to have at the table always," she added.
The conference also includes CRAC's annual general meeting at 9 a.m. Saturday, and a spousal program, at 10 a.m. Friday, featuring feng shui consultant Mia Staysko of White Lotus Interiors.
The conference wraps up on Saturday evening with a closing banquet in 007 James Bond style.
"I think Calgary is putting out the red carpet to welcome our members." Bélanger-Parker said. "We've been working with Tourism Calgary and the convention team there to do as much as we can for our members. And the Hyatt Regency Hotel has been outstanding to deal with in providing service to our members."
Early registration rates are available as long as the fees are paid by April 30. Upon completion of the online registration, each attendee will receive an automated message to book a hotel room.
For more information, visit the CRAC website, www.crac-canada.com.
— Keith Norbury
---
Print this page