Newfoundland couple graduates mobile crane course together
August 21, 2018 By Matt Jones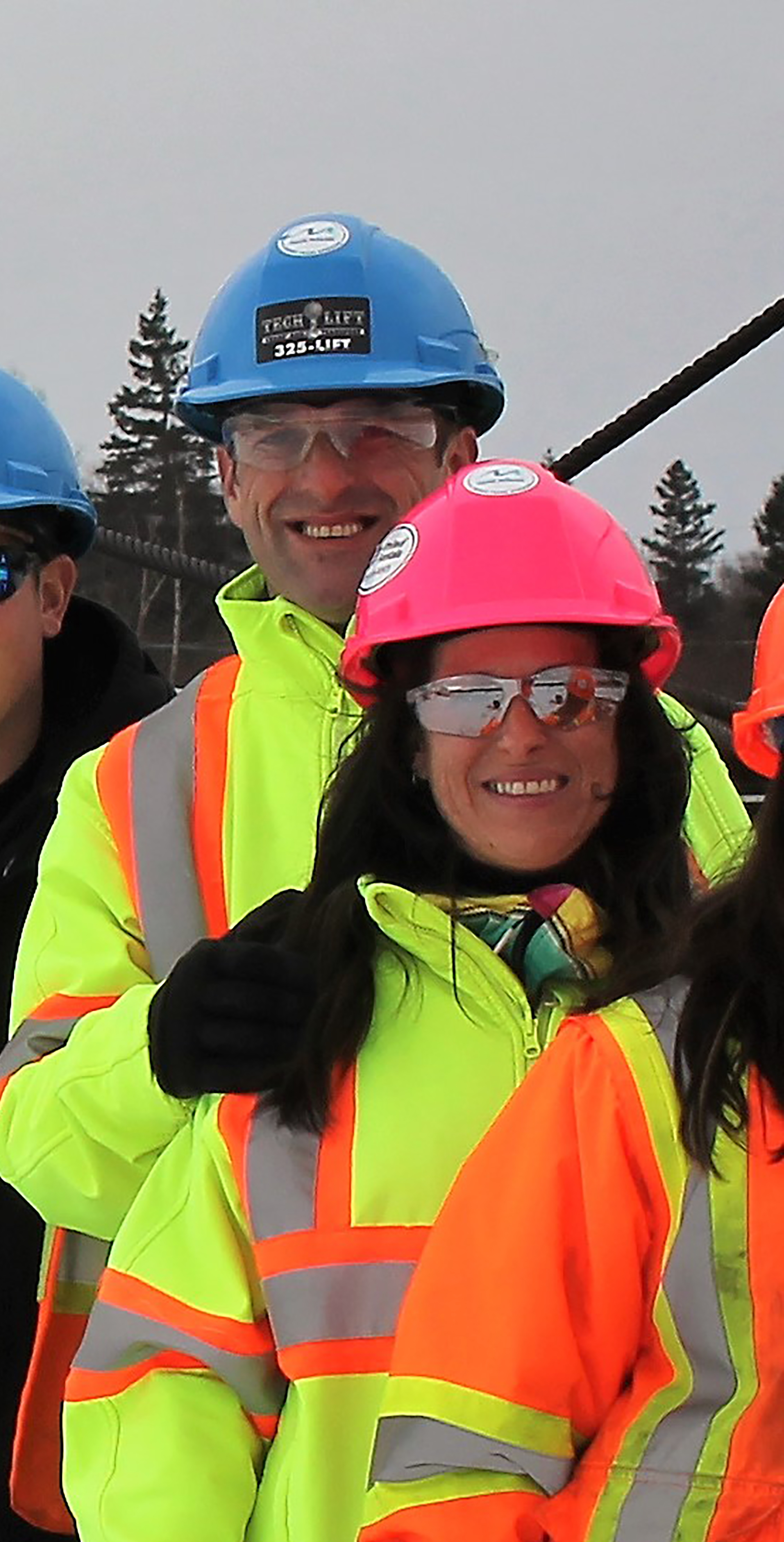 Newfoundlanders Derek Tucker and Gina Jesso first found love together, now they've found a career path together as well. The couple attended and graduated from the College of the North Atlantic's (CNA) Mobile Crane Operator program at the Bay St. George campus in Stephenville, Nfld. Now, they've relocated to Grand Prairie, Alta., to start a new life in their chosen field.
"We're both outdoors people," says Tucker. "We love camping, we go hiking, we walk, we do whatever it takes to be outside, and that's where I met her. I went for a ride on a dirt bike one day and she was camping by herself and we got talking, and here we are."
Jesso says she was initially looking at pursuing a general heavy equipment training path, but, much like meeting Tucker, another random encounter changed things.
"I bumped into a couple of friends of mine who did the course and they steeped my curiosity," says Jesso. "I just thought it was really interesting and I wanted to experience it."
Tucker, who had worked in a parts business for 20 years and had been laid off, was intrigued and decided to give it a shot as well.
"We both applied at the same time, we both got accepted and we both started the same day," says Tucker. "It's been every day, we've been together every day since we met – through school, through everything."
CNA's Mobile Crane Operator program is a 25-week course that has 16 students use four cranes – 18- and 20-ton boom trucks, a 30-ton rough terrain crane and a 50-ton lattice boom crawler. Students are broken into four groups, with each group crewing a crane with one operator, a signal person and two handling taglines.
"Our students pick up quickly on the tone of the training and what we expect from them," says CNA mobile crane instructor Darren Hann. "With such small groups, students become confident as they progress and learn to work as a group and also to think independently when in the seat."
Jesso speaks highly of the training they received and also of the relatively small groupings, which made for an intimate experience.
"If there was something that you didn't understand, they always found a way to help you through," says Jesso. "It was an awesome experience. The teachers were great – not just the teachers, the whole school, everybody. I mean, there were so many people there willing to help anybody with anything. Not just school, if you had any problems at home, anything."
Tucker also speaks glowingly of the staff and his experience with the program. But that's not to say that it was easy, as both found the course a significant and rewarding challenge.
"You get out of something what you put into it, right?" says Tucker. "It was definitely hard but we studied seven days a week, six in the morning till 1 or 2 a.m. We went camping, we took our books. We went to the beach, by the fire, we took our books. We didn't have much in Newfoundland. This was all we had, so we tried it, and it worked out really well."
The Mobile Crane Operator program is half practical and half theory-based. The practical end, once they got used to what they were doing got easier and even fun.
"They're big Tonka toys, right?" jokes Tucker, but the theory side of the program proved a stronger challenge. "The practical, it got easier after a while, but the theory part, it just stayed at that point from beginning to end because it's an honest program and you've got to do good," says Tucker. "But we came through with 95s and 100s on everything, so at the end of the course, it's all understood. It's not hard anymore. If you put the time into it and the interest is there, it does get easier. But the actual part of being out on site and rigging and setting up the equipment, we set up a 50-ton crane and a crawler crane and a 30-ton RT Grove. And now we can both jump in any one of those and set them up with a lot of confidence."
Both Jesso and Tucker say that doing the course together was a great experience and a benefit to them. They were both passionate about it and so they worked hard studying and helping each other out.
"He was my support," says Jesso. "Every time a test came, I panicked. I wouldn't sleep the night before and he would say, 'Don't worry, you're going to do great. I've asked you all these questions, you've got them all down pat.'"
"We can drive a truck, we learned how to drive a truck together," adds Tucker. "I've helped her, she's helped me. There were little things that she could pick out that I couldn't see and vice-versa."
The hard work paid off in the end and both were named to the CNA's Honours Society upon their graduation this spring. You can hear the pride in Tucker's voice as he talks about it.
"You have no idea, this is a real big accomplishment for two people from Newfoundland," says Tucker. "We worked really, really hard. We're totally equipped right now to go to work as crane operators."
He also goes out of his way to credit support from Newfoundland's Department of Advanced Education and Skills, as well as family and friends and anyone else who helped them out along the way.
"We had a lot of financial struggles and it was really stressful trying to do this course at the same time," says Jesso. "But we got through it."
Jesso and Tucker are now settling into their new home in Grand Prairie, where there is a stronger construction job market. Tucker is back working in the parts industry in the meantime, but both are looking for job opportunities where they can put their mobile crane training to good use. Ideally, they would like to find a crane operator or company that would be willing to take both on as apprentices.
---
Print this page