Products & Equipment
Three new Grove all-terrain cranes boost Felbermayr's fleet
September 21, 2023 By Manitowoc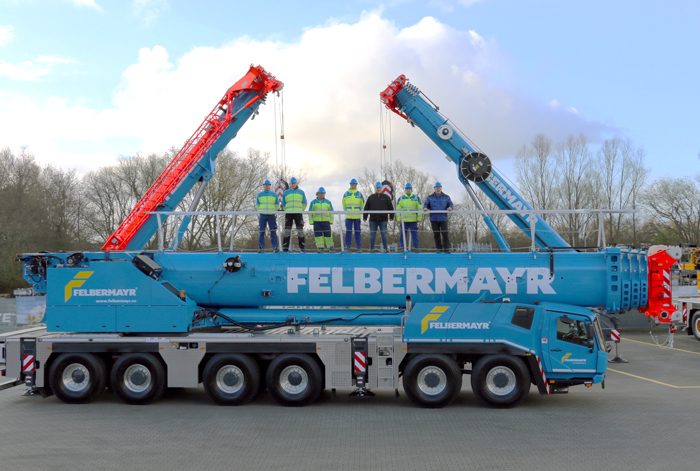 Felbermayr, a family-owned company based in Wels, Austria, has added three Grove all-terrain cranes to its fleet. Two GMK3060L-1 units plus a GMK6400-1 were handed over to the customer at the Manitowoc plant in Wilhelmshaven, Germany.
The two GMK3060L-1 cranes are based at Felbermayr's Lanzendorf headquarters and will mainly be working in Vienna. The new GMK6400-1 is the second 400 t Grove crane in Felbermayr's fleet and will be used in Graz. Felbermayr selected this crane after positive experiences with its existing 400 t Grove and after an intensive analysis of the crane's benefits.
"The GMK6400-1 offers exceptional lift capacities and unbeatable reach. Additionally, it has the impressive self-rigging MegaWingLift™ which can be assembled in less than 20 minutes. We saw a demonstration of the crane at Wilhelmshaven and had the opportunity to thoroughly inspect it. After this, we decided to purchase one. Some of the most reliable and powerful mobile cranes in the world are built at the Grove factory in Wilhelmshaven — and have been for some time — which is why we have steadily increased the number of Grove cranes in our fleet," said Peter Stoettinger, CEO of Felbermayr Transport and Lifting Technology.
The GMK6400-1 is the strongest six-axle all-terrain crane on the market, with a capacity of 400 t and a maximum possible counterweight of 135 t. Equipped with the 79 m luffing jib, it can lift 8.9 t up to 133 m high within a 50 m radius. The crane also has excellent fuel economy, using — on average — only 75 liters of fuel per 100 km driven.
Felbermayr's GMK6400-1 has already shown its strengths on the jobsite. One of its first jobs was to support the demolition of a building at the General Hospital in Vienna. For this project, the crane was set up with 54.6 m of main boom (including MegaWingLift™) plus 25 m of luffing jib to lift a 22 t demolition excavator into position. Due to space constraints, only a six-axle crane could be used, and only the GMK6400-1 had the necessary lift capacity to complete the operation.
Compact GMK3060L-1 additions
The two Grove GMK3060L-1 cranes for Felbermayr have also impressed the company since handover, as Peter Stoettinger explained.
"The Grove GMK3060L-1 cranes are extremely capable taxi cranes with up to 7.5 t of counterweight — something no other manufacturer offers. With the hydraulically adjustable bi-fold swingaway jib, which is unique in this class, we can easily work over obstructions in the narrow Austrian city streets."
The GMK3060L-1 is equipped with a 48 m, seven-section MEGAFORM® boom and its compact carrier impresses with a vehicle width of only 2.55 m and a carrier length of 8.77 m. With its compact dimensions and small slewing radius, it is particularly suitable for work in urban areas. The three-axle crane also has the smallest outrigger base in its class, at just 6.8 x 6.2 m.
All three of Felbermayr's new cranes excel in operator comfort, featuring Grove's latest cab designs. The driver's seat, controls, and storage locations all benefit from an extensive design and testing process that has created a comfortable and practical environment for the operator that includes a coffee machine, kettle, and refrigerator.
---
Print this page