Features
Terex Cranes unveils Demag AC 45 City and AC 300-6
January 9, 2018
---
By
Andrew Snook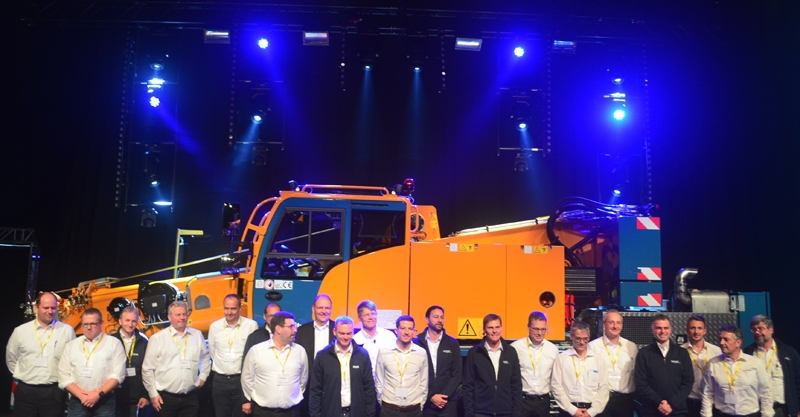 To say that Terex Cranes' Demag AC 40 City crane was a popular item for crane operators would be a serious understatement. After all, more than 1,000 of the AC 40 models were sold within one year of its arrival into the marketplace. Given the crane's popularity, it wasn't surprising to witness the unveiling of the AC 45 City crane during Terex Cranes' recent product launch in Demag's hometown of Zweibrücken, Germany.
The AC 40 City was built from 1997 to 2014, and from the time it was introduced to the development phase of the AC 45 City, the company has received a great deal of feedback on the AC 40 from its customers on how to improve the crane.
Frank Schröder, director of product management for all terrain cranes, highlighted some of the key improvements during the product launch. One key improvement made on the AC 45 City was the installation of a much stronger engine and an improved drivetrain.
"We've put in a 350-horsepower engine which is 70-horsepower more than the AC 40 had," Schröder told the crowd. Another improvement made based on customer feedback for the AC 45 City was an increased telescopic load.
"We were able to double the telescopic loads on the AC 45 City – compared to the AC 40 City – so we can telescope with fully hydraulic boom loads up to nearly 20 tons," Schröder said.
An infinite outrigger base was also added to the AC 45 City.
"One of the most outstanding and new features is an infinite outrigger base, where you can place and position the outriggers in any position you need in terms of confined spaces where the space is needed," Schröder said.
Terex Cranes listened to the feedback of crane operators in terms of improvements to the space, ergonomics and operations within the cabin and made a variety of upgrades there as well.
Additional functional testing of the AC 45 City is expected to continue until this coming May with serious production of the new all terrain cranes starting in June 2018 and the cranes becoming available in the marketplace in July 2018.
AC 300-6
The Demag AC 300-6 all terrain crane is an improved product that is replacing the AC 250-6. The AC 300-6 is built with an 80-metre main boom and is the first crane of its size in the Demag range equipped with a luffing jib.
"The focus and the development was on multi-build and multi-purpose use for various applications, but it definitely delivers a best performance in tower cranes erection and in refinery works," Schröder said. "The AC 300-6 can lift a load of 15 tonnes [16.5 US tons] at a height of above 75 metres at a radius of 20 to 80 metres. That's definitely an outstanding performance in terms of lifting height and lifting capacity compared to every other crane in the market."
Two additional key benefits on the AC 300-6 for customers are interchangeable parts and parts commonality. Interchangeable parts make the crane more efficient and helps to decrease spending, Schröder told the crowd.
"We achieved that we can interchange the main boom extension and the runner from our five-axle family – the AC 250-5, the AC 220-5 and also the AC 160 and 130 – to the AC 300-6. So if customers are running five-axle cranes with this equipment, they can use this equipment also on the 300-6; and vice-versa."
Schröder added that parts commonality is a "win-win" for the company and its customers.
"It's a win for our customers because they are more efficient in terms of stocking parts; in terms of getting better service from us; and being fast in service and maintenance," he said. "And we are much more efficient in terms of inventory management and providing parts for our customers, if needed. We achieved a parts commonality with all the five-axle models of more than 50 per cent."
Production on the AC 300-6 is expected to begin in March 2018.
The company also discussed its three-axle Demag AC 55-3 and AC 60-3 cranes, announced earlier this year, and recent improvements to the AC 100-4L all terrain crane, which features a new design that improves lifting performance, especially when working at steep main boom positions.
A WINNING POSITION
Focus. Simplify. Execute to win. That was the message from Terex Corporation president and CEO John Garrison during the Demag product launch of the AC 45 City and AC 300-6 all terrain cranes.
FOCUS
Garrison said that over the course of the last 18 months that the Terex Corporation has re-positioned itself to focus on the company's key strengths. This re-focusing includes the exiting of all elements of the construction business and the recent sale of its material handling and port solutions business, so it can focus on the its three core business segments: aerial work platforms, cranes and mineral processing, all of which have longstanding, well known international brands backing them including Genie (AWPs); Demag (cranes); Powerscreen, Terex Finlay and Fuchs (mineral processing).
"It's really transitioned from a mergers and acquisition focus to an operating company focus," Garrison told the crowd. "One thing we've been talking to people about and ensuring people understand is that our cranes business is not for sale. This is a business we're going to invest in to grow, and to be successful in the marketplace."
SIMPLIFY
Garrison said that Terex needed its recent downsizing as an organization to become more efficient in today's marketplace, which included staff reductions, particularly on the administration side of its businesses, as well as some plant closures.
"We compete in a hyper-competitive global marketplace. We have to be efficient and effective on a global basis. We've had to do some difficult things," he said. "Why? Because we weren't effective and efficient on a global basis to be successful going forward. "But at the heart of simplify is really what it means from a customer standpoint: How do we simplify our operations so we're easier to do business with? These are complex machines on the crane side, so how do we simplify that operating process from the time we quote, to the order, to the delivery process. How do we handle the parts and service side of our organization? How can we be easier to do business going forward?"
Garrison said the company's plans for simplifying operations also included a focus on reducing unnecessary expenditures on the administration side of the business to improve other aspects of the company's operations.
"We had too much investment, or money spent, in general or administrative expenses and not enough investment in what really matters to customers, which is our products and our services," he said. "Reducing our G&A expenditures, we're taking that and re-investing in product development… investing in our products, investing in our sales and service and investing in our parts side of our business."
The company is also in the process of streamlining its supply chain to ensure it gets the most from its suppliers including best pricing, best quality and top technologies, Garrison added.
EXECUTE TO WIN
Garrison told the crowd that "execute to win" is about process discipline and execution rigour to drive accountability.
"We have to be an organization, where we make a commitment we're going to deliver the crane on this date and we deliver that quality crane that date, no excuses," he said. "And driving that day in and day out through all aspects of our business – our sales team, our operations team – so that we can deliver on those commitments we make to our customers."
Steve Filipov, president of Terex Cranes, had one message he wanted editors from around the world to take back with them.
"My main message is: We are back. We are back in the crane business," he told the crowd. "We've built cranes for 100 years, and we're going to continue building cranes for another 100 years."