Products & Equipment
National Crane shows agile configuration of NBT45-2 at Work Truck Week 2023
March 6, 2023 By National Crane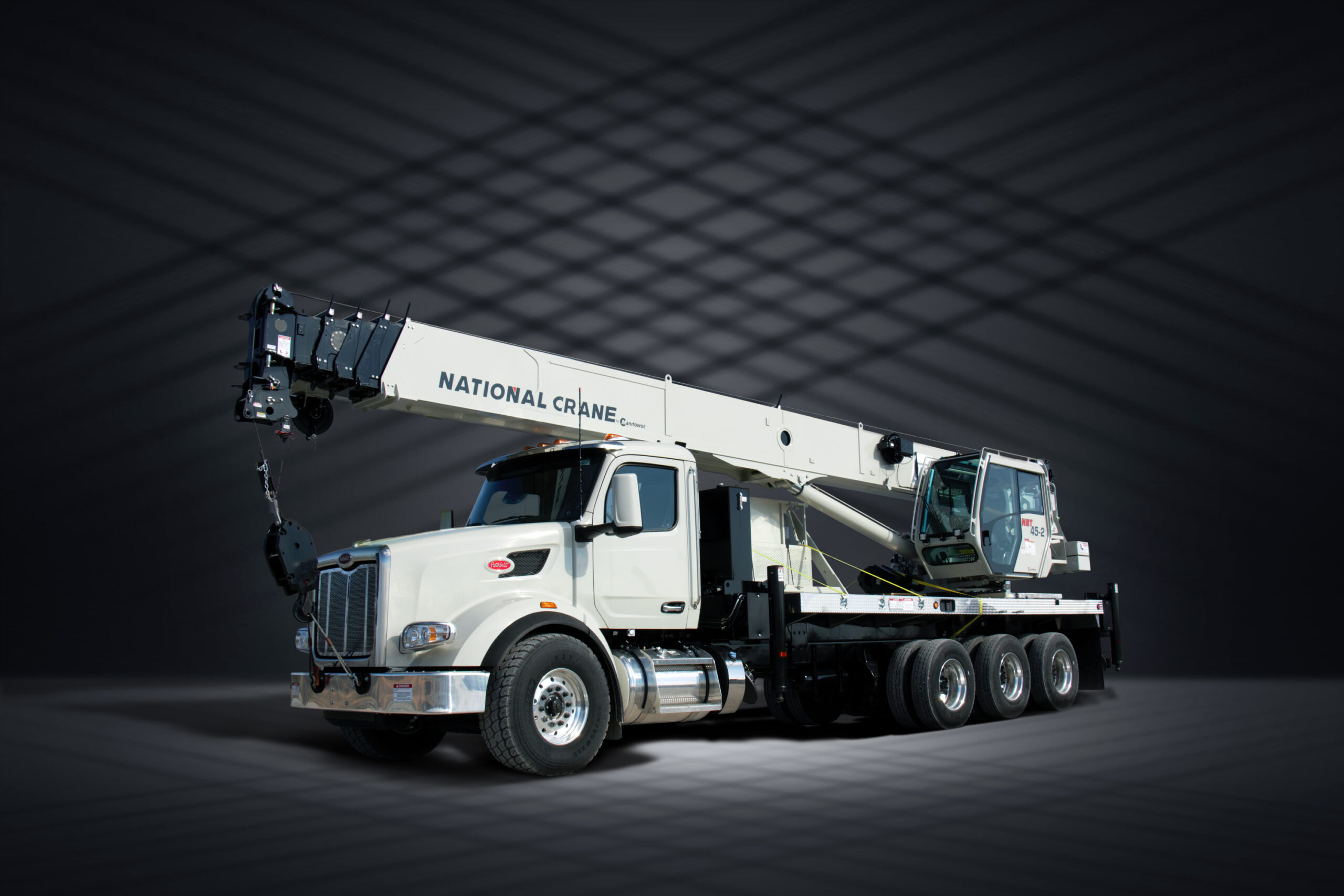 During Work Truck Week 2023, National Crane will display a unique version of the NBT45-2 boom truck at the Peterbilt booth (Level 1 – Booth 4701). The NBT40-2 Series can be designed in countless configurations when paired with the right truck chassis for any application. In 2022, a short-chassis variation was at the show, and this year National Crane is partnering with Peterbilt to exhibit an NBT45-2 configuration that does not require a single front outrigger.
The 45-USt boom truck on display highlights the role that Manitowoc's Truck Mod Center and Lift Solutions departments play in developing customized solutions to meet the industry's evolving needs. The extended torsion box model is one example of the infinite configurations that can be engineered to ensure that a customer's truck and crane are the perfect match and are field-ready when they leave the factory.
In the 40- and 45-USt boom truck classes, the single front outrigger (SFO) is generally required for full 360-degree stability. Despite not having a separate support frame for the crane, this crane and truck combination still performs at full capacity at all points around the crane. To introduce this product, the engineering team talked directly with boom truck owners and operators about how to make the product functional for their applications as part of Manitowoc's Voice of the Customer process.
"We often get feedback to eliminate any additional setup steps, and not having to remember to engage or disengage the SFO saves time," said Bob Ritter, National Crane product manager. "Not having an SFO on the front of the chassis also prevents potential damage to the truck should the vehicle be traveling in more off-road situations like power line rights-of-ways."
On the jobsite, the simplified setup allows outriggers to be quickly set and hook blocks unstowed using the front bumper-mounted controls, removing the need to climb in and out of truck and crane cabs. Optional wireless remote controls make this process even more efficient, while the NTC Performance Package adds even more versatility during set-up.
New heights in performance
With a GVW of 85,000 lbs, powered by a 510 HP Paccar MX13 engine and solid Allison 4500 RDS transmission, the new machine also benefits from the optional 6,000-lbs counterweight package for superior load charts. The crane on display features a 142 ft five-section full-power main boom, plus a 31-55 ft telescopic jib that produces a maximum tip height of 204 ft. This crane also comes equipped with a yoke personnel platform and radio remote controls, perfect for utility-related applications.
The hydraulic tilting cab offers an inclination of up to 20°, reducing neck strain on operators. Other ergonomic benefits include a heated seat and high-output HVAC system, while the speed of the single- and dual-axis electronic joystick controls can be easily adjusted to suit any operator preference.
With an integrated control system, the color graphical RCL simplifies setup and operation as well as monitoring all important data from the crane cab, such as hydraulic system pressure and temperature. Using state-of-the-art onboard diagnostics and real-time error code reporting reduces the need for more time-consuming laptop-based troubleshooting.
---
Print this page