Products & Equipment
Dialight Introduces DC Crane Vigilant High Bay Fixture for Overhead Crane Applications
April 19, 2023 By Dialight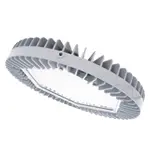 Dialight has announced availability of its newest fixture, the DC Crane Vigilant High Bay, designed to specifically meet the needs of overhead crane applications.
Overhead crane applications, common to heavy industrial settings such as metals and steel processing, are notorious for large voltage swells and dips, which occur during operation and regeneration of the cranes. Even the most robust lighting fixtures face the risk of failure in these unforgiving conditions. Compromised power supplies and electronic components can plunge work areas into darkness or put the lights into a fault state, introducing an unnecessary safety risk.
Dialight's DC Crane Vigilant High Bay features a wide 250-480VDC input range with built in 6kV surge protection, and can handle short-term voltage swells of up to 778VDC for at least 60 seconds. In addition to Dialight's integrated custom power supplies, these fixtures also carry additional features to withstand harsh industrial environments, including: a copper-free aluminum housing with dual powder coat finish, robust tempered glass lens, IK10 impact rating, and an ambient temperature range of up to 65°C on most models. With a broad lumen output range of 12,000 lumens up to 40,000 lumens, there are models to suit a wide variety of mounting heights and applications.
"Dialight has long been the gold standard in LED lighting for hazardous and industrial applications", said Fariyal Khanbabi, Dialight CEO. "We are proud to be able to expand our offering to those with specific performance needs to meet the challenges of overhead crane operation. Our DC Crane fixture offers customers Dialight's hallmark reliability and industry leading 10 year warranty with specific features to protect against voltage sags and swells."
Dialight has a proud heritage of robust engineering and comprehensive product testing. The DC Crane Vigilant High Bay has been vibration tested to Lloyd's Register and IEC 60068-2-6 across a broad frequency range of 10-150Hz, and 750,000 cycles. It carries Dialight's industry-leading 10-year warranty to ensure long-term reliable operation, even in the most difficult environments.
---
Print this page