Products & Equipment
Next generation ABB Ability NGX Hoist Control
May 25, 2022 By Paul Moore / International Mining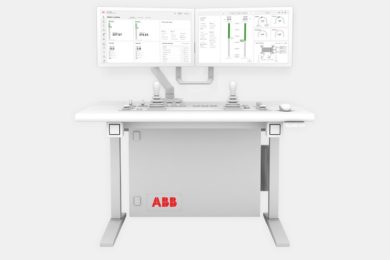 ABB has launched ABB Ability™ NGX Hoist Control, an automated, digital hoist control system evolved from ABB's reliable and proven past generations of hoist control systems, to enable mining companies to operate hoists with high levels of performance and safety using a standardized platform worldwide.
The company says it brings new levels of reliability, flexibility and ease of use to smaller companies on greenfield projects or upgrades as well as global companies where standardization of control systems delivers improved efficiency and reduced costs. ABB Ability™ NGX Hoist Control is adaptable to any type of hoist and can be used in upgrade projects even with third-party control systems. It has intuitive operation via a human machine interface system (HMI) and provides access to ABB expert technical support at all times.
ABB Ability™ NGX Hoist Control can be easily integrated with other market leading ABB technologies including ABB Ability™ Safety Plus for hoists – the first fully SIL 3 certified hoist solutions which ensure the highest level of safety – which was first commissioned in 2019 on the world's largest friction hoists. It is also compatible with advanced digital service ABB Ability™ Performance Optimization for hoists, a digital monitoring service that continuously tracks the status of a mine hoist and improves uptime, availability, performance and productivity of mine hoists by providing actionable information on KPIs.
"This exciting new launch follows the recent introduction of ABB Ability™ Safety Plus and is another milestone for greater levels of reliability, optimization and protection for mine hoists," said Oswald Deuchar, Global Product Line Manager for Hoisting, ABB. "With ABB Ability™ NGX Hoist Control mine operators benefit from reduced downtime and lower maintenance requirements, including round-the-clock support and the ability to manage hoists for greater optimisation. By implementing the same control system across plants OPEX can be further improved."
On the background to the solution, Deuchar told IM: "When we look at our customers, they are increasingly global, but traditionally the engineering for our hoist control systems has been conducted more regionally. All the solutions were good, it's just that the look and feel could be slightly different due to differences in electrical controls and software, for example between Asia and North America. The Tier 1 miners have staff moving around regularly to manage different sites or to assist with new project execution – we wanted to make sure we could offer our customers a platform that is consistent and that they will instantly recognize every time they see an ABB hoist. Going forward as more mines start to be managed from Integrated Remote Operations Centres, it will also streamline hoist management for global miners."
Deuchar also said that internally in ABB, it is more efficient for its hoist control engineers not to have to deal with slightly different platforms across different countries, so their expertise can also be utilised on a more global basis. "It also reflects what was done with ABB Ability™ Safety Plus SIL 3, which is also standardized, and we had many learnings from going on that development journey. With ABB Ability™ NGX Hoist Control we have taken the best that we have from over 130 years of experience around the world in hoist control and brought it all together."
Looking at the mining hoists market, some customers tender separately for the mechanical side (drums, ropes, brakes etc) and the electrical side (control systems, automation). Other customers tender for a total installed hoist solution. Ideally ABB looks to provide the whole package but very commonly also works with other mechanical suppliers to supply the electrical system as that is the customer preference. Tim Gartner, ABB Global Product Manager – Hoist Electrical Systems told IM: "The revamp or upgrade business is also very significant in mine hoisting, and we are very active there. The lifecycle of the mechanical components is actually often very long – we quite often see hoists from the 1940s or even the 1920s still in good shape. Many projects involve taking older hoist mechanicals and upgrading the drive and control system with ABB solutions. This can even happen several times over a long mine life of 40 years or more. Many customers in fact insist on ABB electricals and controls, no matter what mechanical solution they have opted for."
Gartner added: "For example, a customer in Australia who for whatever reason could not access an ABB hoist service engineer locally can now call and get access to expert technical support from anywhere globally, including our Collaborative Operation Center in Europe. The safety circuit will now always be on the same page of the digital drawings and in the same place in the software. We have always followed the latest PLC and other developments with our platforms, this is just another way of making sure we serve the hoist market in a better way. In the past functionality may have been added for a particular region to meet a local customer need – this means these will be available to all worldwide."
What about applying the technology to third party mechanicals or replacing another third party control system? Deuchar commented: "Yes, we can now go not only into our installed hoist base but also our competitors' installed base and meet the sizeable retrofit and upgrade market. The standardized offer will also make us more competitive in the market for smaller hoist control systems than we have been in the past. We have always been very successful in what we call the premium segment, with all the biggest customers and hoisting installations and are also competitive in the 'mid-segment.' But when you get to smaller man and service hoists, the competitive environment is different with a lot of small system integrators – but NGX will enable us to compete better in at least some of those markets and at the same time give those customers the value add that they get with ABB." Gartner added: "Already in North America we are involved in upgrading other hoist brands with our systems, and this just gives us the ability to extend that success globally."
---
Print this page