August 10, 2022 By Matt Jones
DP World have announced significant investments into the multi-purpose container terminal at New Brunswick's Port Saint John. Among other additions, this investment will include two super-post-Panamax quay cranes capable of reaching 21 rows wide.
"The cranes are manufactured by Hyundai Heavy Industries – they are ship to shore cranes with a rated load of 50LT under spreader and 65LT under head frame," says DP World Saint John General Manager Terrence White. "They feature a 100' rail gauge, a 58-metre outreach, 35-metre lifting heights with the tip of the boom 108 metres high. The hoist speed is up to 130 metre per minute and trolley speed is up to 152 metres per minute. And they will utilize a Cutler-Hammer Crane Control System."
These will be the second set of new cranes that DP World have added to Port Saint John and will allow two container vessels to be handled simultaneously. They will allow the terminal to handle ships up to 10,000 twenty-foot-equivalent units (TEU).
Other asset investments at Port Saint John include additional reach stackers, internal transfer vehicles, container trailers and other technology solutions including an upgrade to the terminal operating system, a new truck gate system and financial management systems.
"We are thrilled that our partners at DP World are investing in both new terminal equipment and additional larger gantry cranes at Port Saint John," says Craig Bell Estabrooks, president & CEO of Port Saint John. "These significant investments will enable the terminal to further this period of remarkable growth and provide much needed resiliency in Canada's supply chain."
These investments are intended to enhance and modernize operations at Port Saint John, which will allow it to provide more varied logistic services such as transloading and warehousing. DP World has also invested $205 million into constructing a second container berth which is due to come on line in early 2023. With this project, annual container throughput capacity at Port Saint John will increase from 150,000 TEUs to 350,000 TEUs.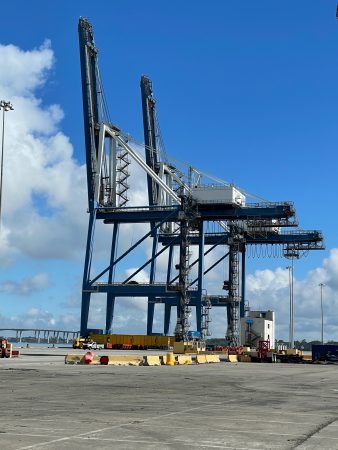 "This significant investment is about building the right trade ecosystem to make Port Saint John the logistics hub for the east coast," says Maksim Mihic, CEO & general manager DP World (Canada) Inc., "By creating additional capacity, we provide more options for Canadian exporters to reach global markets leading to sustainable economic growth for the region."
The expansion of the port has been supported by the Government of Canada, with the announcement of more than $42 million in support through the National Trade Corridors Fund. That investment includes $21.16 million to upgrade rail terminals in Saint John and McAdam and $21 million to the Saint John Port Authority to increase capacities at the terminal and to allow wheeled cargo capabilities. Each of those investments has been matched by a local partner.
"The enhancements to the modernization project will build additional capacity to meet the increased demand being created by the private sector, create jobs and make the port competitive with Halifax and Montreal," says Minister of Economic Development and Small Business and minister responsible for Opportunities New Brunswick, Arlene Dunn.
---
Print this page