Features
Ten years: A decade of change
Crane & Hoist Canada is celebrating its 10th year this January
December 18, 2019 By Saul Chernos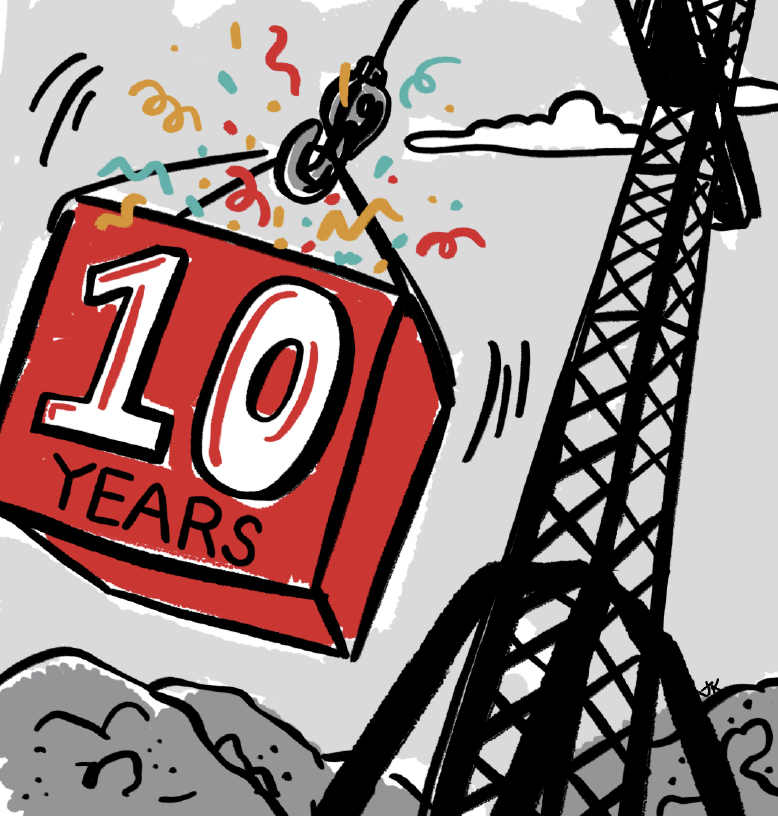 With Crane & Hoist Canada celebrating 10 years in print, what better time to note some of the changes the industry has experienced. A marked increased in urban density coupled with an array of technological developments has altered the landscape in remarkable ways. Improved safety measures, shifting attitudes about who can operate a crane, and newfound cross-industry co-operation have proven noteworthy.
Approach any urban centre and the first thing you'll see is a tower crane, or maybe even a cluster – reminders that construction is a big deal across Canada. As managing director of Bigfoot Crane in Abbotsford B.C., Ryan Burton has a front-row view of changes in building types and sizes and in the machines used to complete projects.
"There's been a lot more big, multi-family apartment buildings," Burton said, noting a shift from three and four-storeys to six storeys and a consequent demand for self-erecting tower cranes because these slightly taller buildings are beyond the reach of telehandlers and telescopic forklifts yet too low-rise for conventional tower cranes. The largest self-erecting tower cranes are smaller than conventional ones, cheaper to purchase or rent, and don't require large mobile cranes for assembly.
Burton added that self-erecting tower cranes are also popular in remote areas such as ski resorts, mainly because there's no need to transport mobile cranes to help with set-up.
Engineered wood-beam buildings up to 20 storeys high have also emerged on the landscape. "They're going up in a matter of eight to 10 weeks, sometimes, so we're definitely seeing the shortened duration of construction time," Burton said, adding project haste is good for proponents but does shorten crane rental periods.
Smaller cranes aren't always the rage. Steve Matthews, area manager with the structural steel and bridge division of Niagara Falls, Ontario-based contractor E.S. Fox, said hydraulic cranes are gaining in size at the upper end of the scale.
"We're doing a bridge in Toronto right now and need a 900-tonne hydraulic," Matthews said. "No other crane that will do that job." While the crane will be a good fit for the job, the challenge is often availability. Matthews said crews used to find more machines with the right specs in Ontario but are now having to source them elsewhere.
"It creates small problematic pockets in the industry with pricing and supply and demand," Matthews explained. "Larger cranes are normally on longer-term projects – wind farms, power plants – and are sometimes tied up for months. It's hard to get pencilled in sometimes."
In Québec, Grues Guay vice-president Guillaume Gagnon said work on bridges, roads and other infrastructure has been ongoing. And while wind turbine installations levelled off after peaking in 2011 and 2012, maintenance work remains strong.
The past decade has also seen significant equipment innovations. "We see more electronic, more safety features, more efficiencies, more pollution management," Gagnon said. "We worked on the Champlain Bridge and all our equipment was required to be with bio-sourced oil so that if there's a leak or accident it has less impact on the environment. We see a lot of features coming up in our market that were not a priority 10 years ago."
Gagnon credited new computerized features such as sensors for enhancing safety. "If you do any kind of operation that is wrong, the crane will block you. Some cranes have a detector on the outrigger so if it's not positioned in a good way or if you don't have a good amount of counterweight on the crane the computer will tell you."
Safety also received a legislative boost when a Québec contractor was sentenced to 18 months in jail for manslaughter following the death of an employee after a trench collapsed in 2018. "If you're negligent you can be arrested," Gagnon said. "You didn't see this 10 years ago. When we meet our people, we talk about these cases."
Further on the safety front, Judy Mellott-Green, CEO of All Canadian Training Institute in Edmonton, participated in revisions to Canadian Standards Association B167-2016, which governs overhead and gantry cranes and monorails.
"It's far more detailed now than it was 10 years ago," Mellott-Green said, highlighting what she considers the most significant improvement – a new requirement for operator logs. "There's been maintenance logs because manufacturers have insisted on those, but there's never really been anything required from overhead crane operators."
The updated standard is more precise about maintenance, repair and operational requirements. While it's too soon to quantify improvements statistically, Mellott-Green said operators now more routinely perform pre-operational checks and inspect their rigging.
Another significant development in overhead cranes is increased wireless control. A decade ago operators carried pendants hooked to the machines. Now, operators walk around more freely and observe loads, Mellott-Green said.
Advances in engineering and high-tech are also boosting safety and productivity. Dr. Ahmed Bouferguene, a researcher in civil engineering with the University of Alberta in Edmonton, said increased reliance on prefabricated modules, which require assembly rather than more laborious on-site construction, is coinciding with new computer modelling techniques to help entire teams visualize lift planning like never before.
"We're doing more planning beforehand, before the time of assembly," Bouferguene explained, describing access to three-dimensional computer modelling where everyone, from mobile crane operators to clients, maps the entire process. "There's more reliance on analytics, visualization, and simulation before you even go to a site," he said.
In Ontario, the Operating Engineers Training Institute of Ontario, the training arm of the International Union of Operating Engineers Local 793, teamed up with training products vendor CM Labs to develop and refine training simulation tools.
"The goal of the latest project has been to introduce a trainee performance management system which monitors and records parameters including collisions, load pendulum and rough load handling," Local 793 business manager Mike Gallagher said.
Gallagher said crane simulation tools have dramatically evolved over the past decade with the incorporation of real-life conditions such as wind, precipitation and low-light settings, as well as visual distractions, boom deflection and sensations such as pulling and resistance.
On the legislative front in Ontario, Gallagher called 2017 Working At Heights safety legislation "significant" but said it will take time to be absorbed into everyday practice. "It's not something that you can just put up a bunch of posters all over the place and expect everything to change overnight. It has to become accepted and routine." Gallagher added he'd ultimately like to see national safety and training standards.
Crane swings also made headlines with courts rejecting applications to prevent tower cranes swinging over neighbouring properties when material impacts aren't proven. Even when property rights are breached, damages ordered are generally nominal.
"The courts are saying we have to balance property rights with commercial and practical reality," said Leor Margulies, a lawyer with Robins Appleby & Taub in Toronto. "The question is always going to be the impact on the adjoining owner's lands. That's where the courts have gone."
Negotiating agreements in advance, perhaps in conjunction with other neighbourly issues such as tiebacks, can help a developer establish good faith should the matter end up unresolved and before a judge, Margulies said. "Injunctions are equitable remedies and the court will look at the behaviour of the parties as one of the factors in determining whether this discretionary remedy will be awarded."
The human side of the business has also undergone transformation. Valerie Brennan, vice-president of Amherst Group, a Toronto crane and services provider, said members of the Crane Rental Association of Canada (CRAC) and some regional counterparts are collaborating to resolve issues of mutual concern, including challenges that come with transporting mobile cranes and other heavy loads along roads and bridges.
"Crane rental companies have become more and more involved as a group rather than individually in negotiating what government should be doing to improve the infrastructure and what we can do to not damage or wear out road surfaces and bridges," Brennan said.
CRAC has also provided a forum for ongoing discussion about increasing the presence of women in the crane sector, most notably as operators and mechanics. Brennan said acceptance has grown in recent years. "There's still obvious concerns because of the physical nature of the job, but people are less likely to balk at it," she noted.
At Canadian Crane Rentals in Wingham, Ont., owner Sheldon Baker said recruiting the latest generation of new employees has become increasingly challenging.
"It's really hard getting apprentices that want to come into the industry," Baker said. "Everybody wants to run a crane, but they don't want to put in what it takes to get there. They want 9 to 5 [o'clock] and they want Monday to Friday. But we're a taxi house. It's high and low spikes, and millennials have a hard time dealing with that."
---
Print this page