We promised you more of our Photo Contest entries – and here they are.
We had an amazing response from Crane & Hoist Canada magazine readers for our 2022 Cover Photo contest to grace our Sept/Oct cover (the first part of our entries can be found here).
Our winner – Michael Demelo's high above the clouds submission from Oxford Builders Supplies – can be found in Part One of our Picture Perfect series in our news feed, and of course on the cover of the magazine.
Enjoy part 2 of the submissions we received – and look for our third and final instalment of our Photo Cover Contest series to be posted Monday, Sept. 12.
Manbir Bharj
When:     5/6/2022
Where:    Guelph, Ont.
Project:   Hoisting panels onto the side of a building for a construction company on Highway 6 in Guelph, Ont.
Model:    30 ton boom truck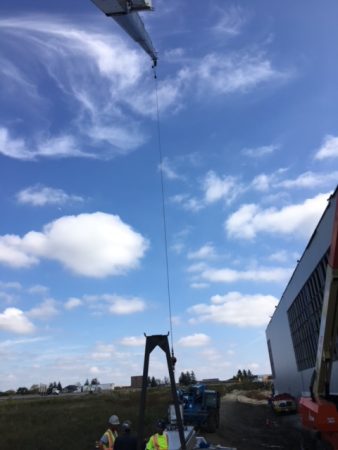 Jamie MacKinnon, Sling Choker
When:     2/16/2016
Where:    On site
Project:   Regular maintenance.
Mike Ryane, Premier Crane & Services Ltd.
When:     6/7/2022
Where:    Vancouver, B.C.
Project:   Building a greenway on top of a high rise building downtown Vancouver.
Model:    Manitex 50155SHL
Sabrina Christie, Phoenix Truck & Crane (6 submissions)
When:     5/26/2022
Where:    Vancouver, B.C.
Project:   Installing massive pieces of glasses to a brand-new building on Alberni Street in downtown Vancouver. We were there with our 165 Ton Hydraulic crane for over three weeks, used glass cup that no one had ever used before and will need to go back for more.
Model:    Grove GMK 5165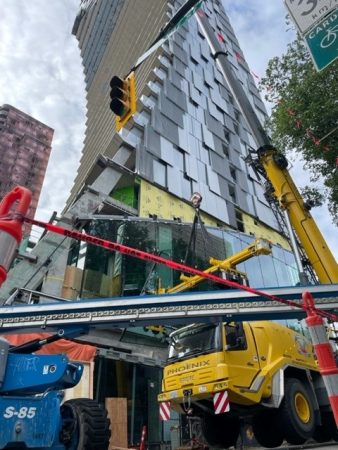 When:     3/26/2022
Where:    Langley, B.C.
Project:   Installing a new outdoor sign at Willowbrook Mall.
Model:    30-ton Stiff Boom (National Crane)
When:     11/19/2019
Where:    Under the Granville Bridge
Project:   It's hard to believe that it's been 7 years since Vancouver city council approved the project to install a $1.2 million chandelier under the Granville Street Bridge – but now having witnessed the result, we know it was worth the wait!
Commissioned by developer Westbank Corporation, this impressive piece, measuring fourteen feet by twenty-one feet is an 18th century replica and was created by Vancouver artist Rodney Graham.
We sent our unit 5160 to hoist and install this beautiful 7,500-pound piece of art, made of stainless steel, LED Lamps and faux crystals.
Model:    Copma 1600.8
When:     1/28/2021
Where:    Powell Street at an artist studio
Project:   The North Vancouver landmark, a four-metre bronze life-size grizzly that was originally installed in 2007 had to be refurbished so it went back to the original artist, Ken Clarke for a few months. Clarke carefully restore the sculpture and gave us a call when the piece was ready to go back to the corner of 11th and Lonsdale in North Vancouver.
Conserving and maintaining our communities' public art is important for the preservation of our cultural heritage and the richness of our neighbourhoods so, after 13 years outside, the popular 600-pound artwork was worthy of some love, care, and restoration.
Model:    Palfinger PK 92002
When:     3/3/2022
Where:    Pattullo Bridge
Project:   The Pattullo Bridge is a key connection between the communities of Surrey and New Westminster since it opened in 1937. There are many steps before the expanded bridge is built and one of these is the relocation of the bridge signs since the new structure will be roughly 100 metres north and upstream of the existing bridge. This is where Phoenix Truck & Crane comes in to play – we removed the old sign and a few months later install the modernized and impressive sign which aligns with the new bridge ramps.
Model:    Elliott Crane
When:     3/24/2022
Where:    Vancouver Convention Centre
Project:   After a couple of years of virtual conferences, Buildex Vancouver was back in person in March of this year. We were so pleased to be able to take part, not only attending, but by also by assisting a few exhibitors, Unbuilders and Pure Design with their thoughtful experiential installation at the show.
Called 'Re-Grow', the piece in this picture demonstrated that we can build with the use of deconstructed materials and that 'waste' can actually be one of the greatest tools to build a net-zero future.
Model:    COPMA Crane 430.8
We want to thank the following for their excellent contributions:
Aaron Cromarty, Cambie Forming Ltd.;
Rachelle Guernette, Sterling Crane;
Marc-André Martineau, Premium Groupe Industriel;
Ryan Long, A W Leil Cranes & Equipment;
Thomas Moore, CRS Crane Systems Inc.;
Jordan Friesen, DeKoning Innovations / IRONCO Enterprises;
Will Robinson, Easy Green Yard;
Jordan Couse, National Crane Services Incorporated;
Michael Demelo, Oxford Builders Supplies;
Manbir Bharj, Guelph, Ont.;
Jamie MacKinnon, Sling Choker;
Mike Ryane, Premier Crane & Services Ltd.;
Sabrina Christie, Phoenix Truck & Crane;
James Kampen, Leavitt Cranes;
Claire Gjertsen, Kristian Electric Ltd.;
Derek Rauch, Vertical Crane;
Roland Noestler, Liebherr; and
Steve Parr, Atlas Polar Company Ltd.
---
Print this page