News Products & Equipment
OZ Lifting manual brake winches for Kayak launch
December 31, 2019 By OZ Lifting Products LLC
Dec. 31, 2019 – Stainless steel manual brake winches from OZ Lifting Products LLC are an integral component of a patented kayak launch from Golden Boat Lifts.
The Ft. Myers, Florida-based marine products manufacturer installs the winches to control up and down movement as kayaks weighing up to 250 lbs. are lowered and raised from water. The 1,000-lb. capacity OZ1000BWSS winches, featuring 3/16 in. wire rope, are installed on both five- and seven-step versions, which give end users 48 in. and 72 in. of travel respectively.
"The stainless [steel] winch from OZ adds to the value of our kayak launch in many ways. It allows Golden to sell a complete stainless and aluminum product that can withstand the harshest of weather conditions, and provide a long service life to our customers," said Ken Felty, vice president of sales at Golden Boat Lifts.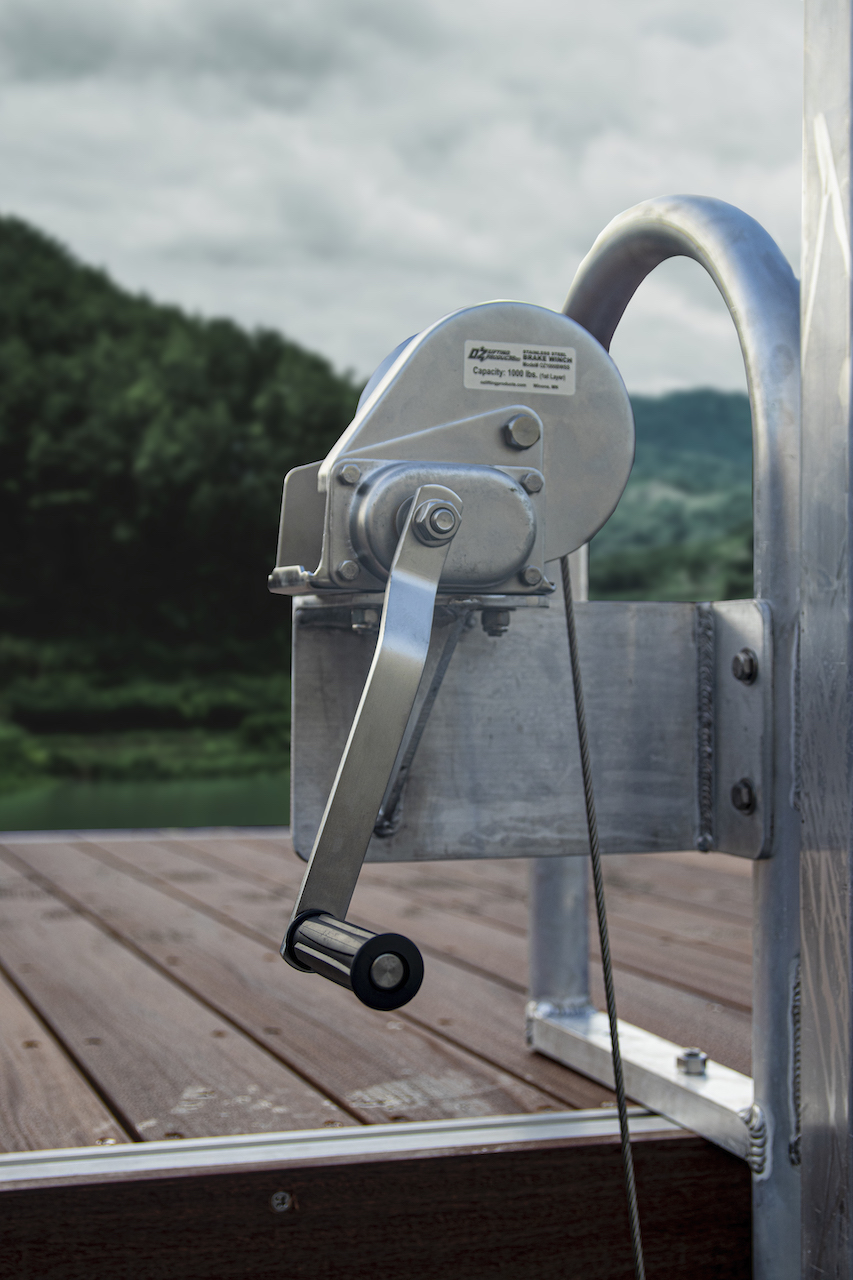 The launch, which comes with optional roller assembly, allows the user to slide a kayak onto a platform above the water level. Safety catches are then released before the winch is hand operated until the kayak is on top of the water. The user then climbs down the steps and into the boat, completing the launch in less than 90 seconds. Upon return to the dock, the kayak is positioned above the platform and the paddle placed on a jetty. Once the person has ascended the steps and operated the winch, the kayak can be removed for storage or transportation.
"We have sold over 500 units since 2017. At the time I was in purchasing here at the company and we were looking for a stainless steel hand crank winch to replace the painted steel model we were using. The OZ Lifting winch has proved a reliable solution," said Tommy Fryer, assistant sales manager at Golden Boat Lifts.
The winches are suited to a variety of applications with an automatic weatherproof Weston-style brake enhancing their appeal in marine environments. An ergonomic rubber handle and fully enclosed gearing are other standout features. Steve Napieralski, president at Winona, Minnesota-based OZ Lifting, also highlighted the compactness of the winch design.
"Golden Boat Lifts should be commended for leveraging the benefits of the winches in their innovative kayak launching product. However, there are many uses for the range, in this capacity and the heavier 1,500-lb. and 2,000-lb. safe working load versions. Different wire rope diameters suit some applications more than others," said Napieralski.
Fryer adds, "It's often about tailoring the features of a product to the specifics of an application. The kayak launch—and the winch—addressed users' concerns about getting into kayaks when the dock might previously have been too high or a ladder was insecure. The launch provides a safe solution, making the joys of the water more accessible than ever before, all while taking up very little space at the dock."
---
Print this page