Products & Equipment
New truck-mounted crane ideal for roofing
November 3, 2016 By Matt Jones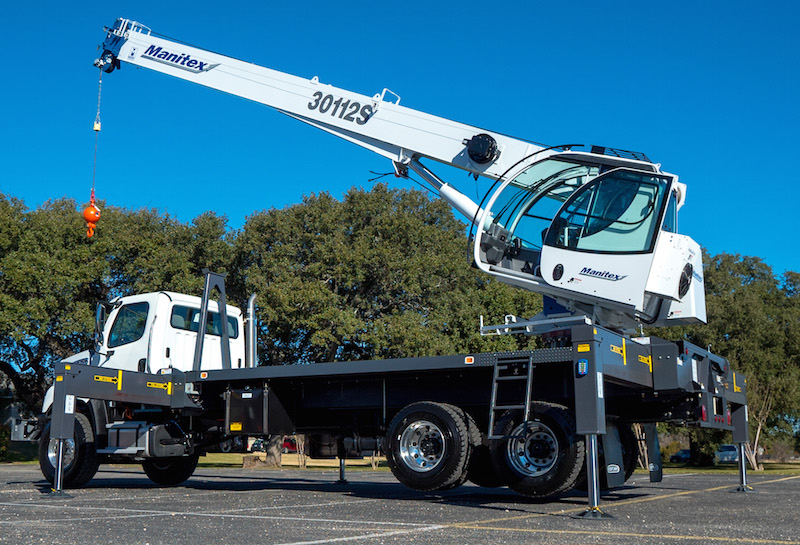 A new model has been added to the TC lineup of truck-mounted cranes from Manitex Inc.
The 30112S features 30-ton maximum lift capacity and main booming lifting height of 122 feet, said a news release from Manitex, which is based in Georgetown, Texas.
With an optional two-piece 26-foot to 46-foot jib, the 30112 has a maximum tip height of 167 feet.
The TC300 series crane also "incorporates a new deluxe cab capable of inclining up to 20 degrees for optimal operator comfort," the release said. The cab, which has 18 inches of extended leg room and additional storage behind the seat, is ideal for such applications as roofing, HVAC, setting trusses, and lifting on multi-level rooftops, the release added.
Standard features on the 30112S include the following:
• heated seat and diesel heater;
• four single-axis low-effort pilot-operated hydraulic controls;
• Hirschmann I-scale load moment indicator;
• 12-volt DC outlet, USB port, and cup holder;
• E-coat cab finish to protect against corrosion;
• rear pop-out window;
• top-hinged window with wiper/washer and hatch guard;
• windshield wiper with spray nozzle and pump; and
• engine parameters viewable from a main display.
Optional equipment includes air conditioning, video cameras, and a weather-band radio.
For more information, visit www.manitex.com.
---
Print this page