November 30, 2020 By Crane & Hoist Canada
A new children's book has been launched by Combilift and author Emer Conlon.
"I approached Combilift just over a year ago, with a view to proposing a novel, unique way to communicate with existing and potential customers, as well as being involved in the education of the next generation," said Conlon. "The idea was to write a children's book which 'cartoon-izes' the main Combilift products and transforms them into characters that children will love. I wanted to also use it as a marketing tool for the adults and so I used the USPs of the actual forklifts and turned them into the superpowers of the characters."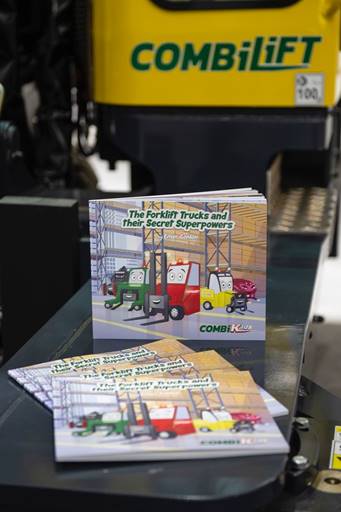 According to Emer, when writing the book, "The Forklift trucks and their Secret Superpowers", it was important to achieve a balance between Combilift branding and creating a story featuring endearing characters that children would fall in love with. The Combilift adventure is a real page-turner, filled with drama and excitement."
Martin McVicar, Combilift CEO and co-founder said education and learning are important.
"We believe it was very important to be involved with the education of the next generation; however, our new CombiKids initiative will involve even younger children with Combilift," said McVicar.
CombiKids book highlights overcoming difficulties, the importance of friendship and that bullying is unacceptable. The forklift trucks are all different shapes and sizes so, there is an element of, no matter what someone looks like or what shape or size they are, it is important to be accepting of others and of differences.
For more information, visit combi-kids.com.
---
Print this page