The Crane Rental Association of Canada (CRAC) hosted an online presentation on the National Task Force on Vehicle Weights and Dimensions Policy, and the results from the Alberta All-Terrain Cranes Pilot Project.
The biggest takeaway from the project is that the industry proved that it could move cranes efficiently, safely and in a more cost-effective manner with just a few adaptations.
Through the pilot project, the axle weights were increased, proving to all the regulatory bodies and different levels of government that the size of dollies could be reduced and tail swing, alleviating the amount of support equipment required for a move.
"It was a really big win and helped to open their eyes to see what we had been up against," said Mike Lavoie, Operations Manager Myshak Crane & Rigging during the presentation.
CRAC Executive Director Claire Bélanger-Parker chaired the presentation, along with co-chairs
Mike Lavoie and Justin Andrews, Regional Business Manager Canada & Wester USA, Tadano America.
Among the impacts on safety that were noted during the project were:
The ability to keep the outriggers, jibs and auxiliary winches on the cranes;
Driving on slippery, muddy or inclement road conditions with added axle weights increased traction, far safe and less stressful;
With a reduced amount of tail-swing, there wasn't a single incident in ban season, and a definite reduction in near misses;
A reduction of pinch/crush point injuries from outrigger removal/installation; and
A reduction of man hours and the potential for incidents and near misses by not having to reconfigure equipment during spring ban.
Andrews pointed out that all-terrain's adaptive steering went a long way to protecting roads.
"We expect this amendment to the Pilot Project will demonstrate that all-terrain cranes are engineered to protect pavement integrity and travel safely on Canadian highways," says Mark Danderfer, Co-Chair of the Boom Dolly Research Committee (BDRC). "This important amendment would not have been possible without the collaboration of the Ministry of Transportation and the extraordinary input and dedication of my Co-Chair, Justin Andrews, Regional Business Manager for Western USA & Canada for Tadano America."
The results from the National Task Force on Weight & Dimension Policy meeting were unveiled, with Alberta members providing feedback and opening the doors to multiple possibilities, "not only for Alberta but also for the rest of Canada," states CRAC.
The Boom Dolly Research Committee has a three-prong approach: Advocate for changes to provincial regulations; develop best practices and research technical solutions.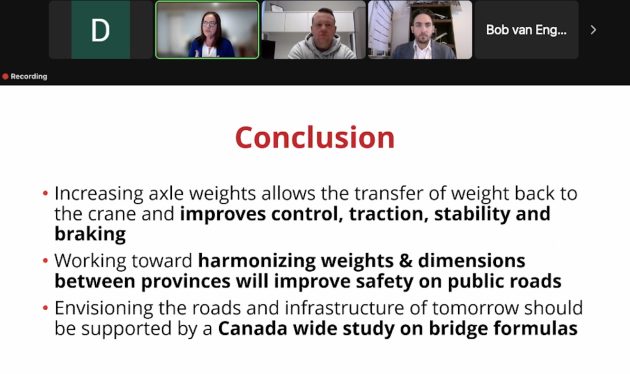 ---
Print this page