News
Manitex recognized for industry support and education
May 3, 2018 By Manitex International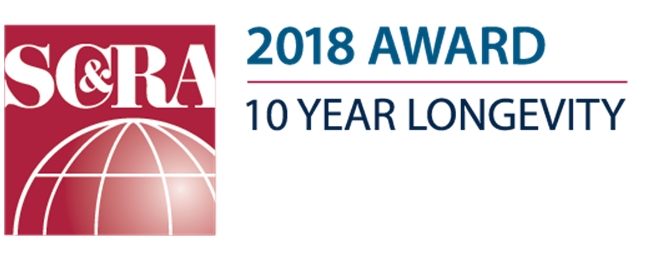 Manitex International, Inc. received a Longevity Award from the Specialized Carriers & Rigging Association (SC&RA) at its annual conference in Boca Raton, Fla. on April 21, 2018. SC&RA is an international organization comprised of more than 1,350 members from 46 nations.
SC&RA's Longevity Awards are presented to member companies for their longtime support and dedication to the association and its mission. Manitex was recognized with the 10 Years Award.
Manitex is dedicated to innovation in design and safety. As we look to the future our commitment to the industry will continue while keeping safety and education at the forefront of our minds.
Firms across the U.S. and around the world submit dozens of entries to the SC&RA Awards competition each year. The Awards program recognizes worldwide excellence in the crane, rigging and specialized transportation industry.
"Manitex is honoured to be a member of such an elite group of industry professionals and looks forward to the continued growth and success of the SC&RA," said Randy Robertson, Manitex's director of sales and marketing.
About SC&RA
The Specialized Carriers & Rigging Association (SC&RA) is an international trade association of more than 1,350 members from 46 nations. Our members are involved in specialized transportation, crane and rigging operations, machinery moving and erecting, industrial maintenance, millwrighting, manufacturing, and rental services. SC&RA helps members run more efficient and safer businesses by monitoring and affecting pending legislation and regulatory policies at the state and national levels; researching and reporting on safety concerns and best business practices; and providing five yearly forums where these and other relevant member issues can be advanced. For more information, visit scranet.org.
About Manitex International, Inc.
Manitex International, Inc. is a leading worldwide provider of highly engineered specialized equipment including boom trucks, cranes, and other related industrial equipment. Our products, which are manufactured in facilities located in the USA and Europe, are targeted to selected niche markets where their unique designs and engineering excellence fill the needs of our customers and provide a competitive advantage.  We have consistently added to our portfolio of branded products and equipment both through internal development and focused acquisitions to diversify and expand our sales and profit base while remaining committed to our niche market strategy.  Our brands include Manitex, PM, Badger, Sabre, and Valla.
---
Print this page