Features
Draganfly services heavy lifting industry with drones and data integration
January 30, 2020 By Jay Koblun
Draganfly has over 20 years of experience designing and manufacturing professional drones for military, public safety, energy, insurance, and agriculture sectors and can also serve the construction, aggregate, and heavy lifting industries.
Draganfly is a Canadian company and manufactures drones in Saskatoon, Sask. The company's head office is in Vancouver, B.C., with divisions in the U.S. too. CEO and co-founder Cameron Chell said Draganfly builds, services, sells and flies drones, but is not only in the drone business.
"I don't think we're solely in the drone business. We are into data collection and based in the data integration business," he said. "And what that means is we need to do whatever we can for our customer to get them the most important and unique data in the least expensive way possible.
"We have three different ways that we can partner with the construction industries," said Chell. "We can certainly sell them our product and the software and help ensure that the integration with their construction management software is correct, so they can pick their own pilots. We can provide training, we can provide certification, we can turnkey it all so its theirs to move forward with as they see fit."
The second way Chell said Draganfly can benefit construction companies is by making drones that collect data in a very unique way that enables them to have a strategic advantage.
"If you think about a bridge construction company or inspection company, they need a drone that has a camera that faces up, so they can look underneath the bridge," he said. "Those are the types of things that we can build for companies. We can also put specific types of sensors on that drone, certain types of cameras, or we can work with different LiDAR companies to provide a faster and more efficient way to collect data, or even their own unique data that gives them a strategic advantage."
LiDAR (Light Detection and Ranging) is a remote sensing technology that uses rapid laser pulses to map out the surface of the earth. LiDAR is useful when used to create high-resolution digital surfaces, terrain and elevation models used for various business applications.
"So, for companies that are looking to have a differentiated advantage over their competitors because of the data that they can collect — we're a great partner to that," said Chell.
The final way Chell said Draganfly can be a good fit for the construction and aggregate industry is by flying the missions.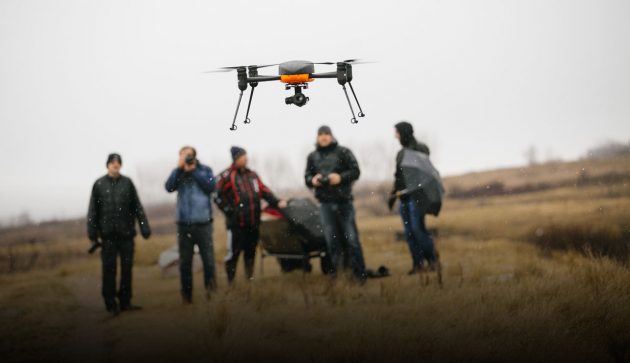 "We can actually fly the missions," he said. "So, while we support lots of contractors that fly their own missions, we have our own pilots and we have our own data systems, so we're happy to go up there and fly the missions for those companies and provide them updates. Whether it's a survey for quarries, or surveys for inventory to see which products can move that particular day from site to site.
"There could be progress management, it could be inventory control. It could be survey mapping, ground cover surveys to help decide what trees you may need to cut down, or where they will cut a road in and things like that," he said.
Across those three particular service areas Chell said there really isn't anything that they can't do to provide a service into the construction space.
---
Print this page