Products & Equipment Markets & Reports
A booming market: Mini-cranes market growing; users looking for longer reach
December 19, 2018 By Andrew Snook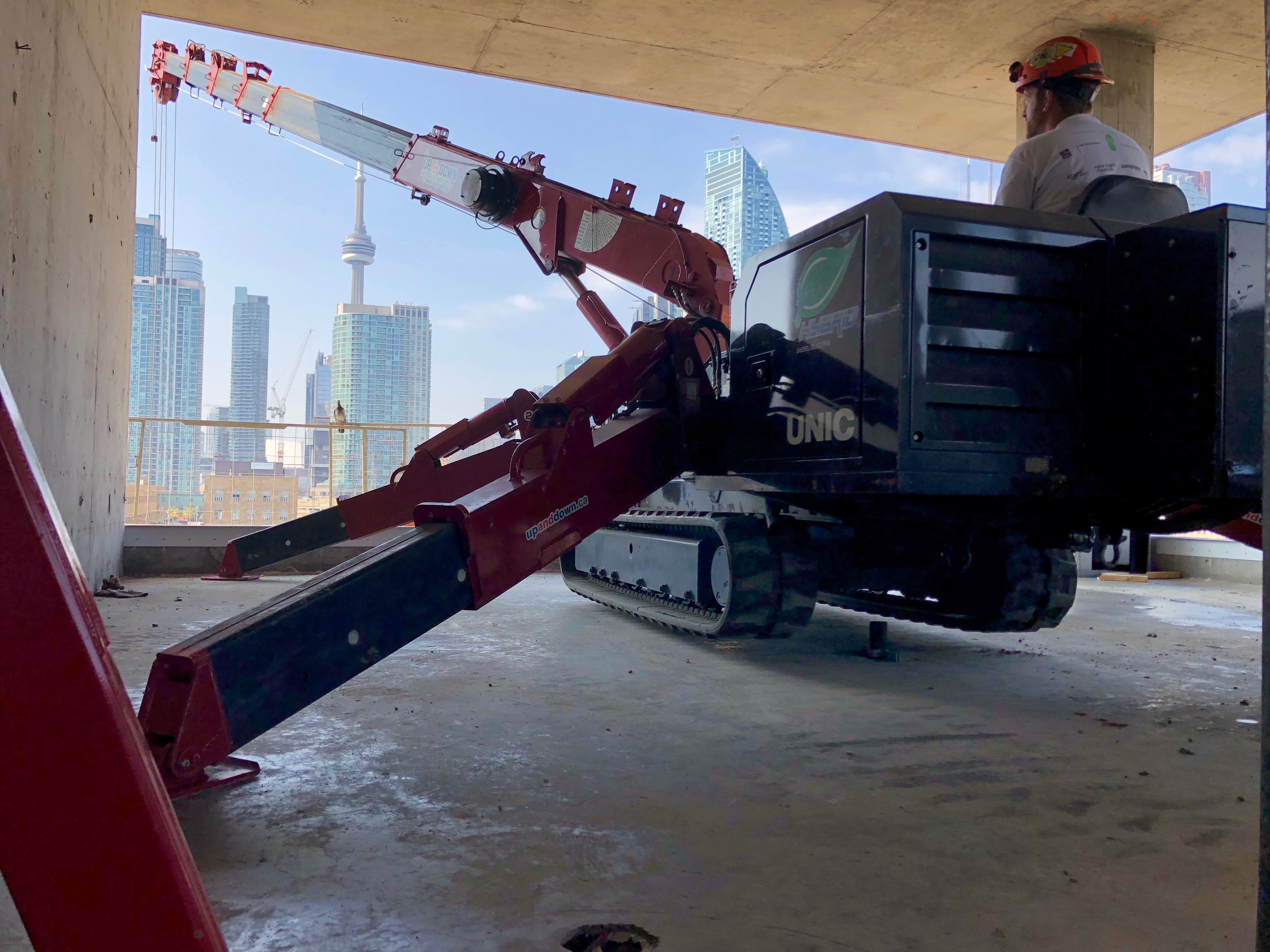 Mini-cranes are used in a variety of applications across Canada from glass installations to construction in areas requiring lifting equipment with smaller footprints, and plant and mill maintenance. Depending on where you are in Canada, the application for these unique machines can differ significantly.
In the larger urban areas with very active condominium and commercial markets, like Toronto, Montreal and Vancouver, glazing and steel work are significant contributors to the increasing demand for mini-cranes, and they're looking for serious reach.
"We're definitely seeing a move towards the larger mini crane versions," says Jimmy Latta, sales representative for Up & Down Lifting Solutions based in Ayr, Ont., which has cranes all over Canada but does a lot of work servicing the Greater Toronto Area. "We have mini-cranes with up to 90 feet of boom in them. Previously it was single-floor, second-floor jobs, but now we're seeing a lot more jobs requiring 80 or 90 feet of boom. It's mainly a change in terms of reach than capacity."
Although extended reach is the biggest driver for the increased demand for larger mini-cranes, the weight of glass installations has also played a factor. The glass is getting larger and larger, making it increasingly difficult for companies to do it manually anymore.
"The glass is really taking a change in terms of much larger installations," Latta says. "It's not uncommon for glazers to install 500-lb. to 1,000-lb. pieces of glass. They used to use five or six guys [to install the glass], now they're bringing in mini-cranes."
The constant demand for more sophisticated building designs with tighter building envelopes and more modern architecture has been a big driver for the mini-crane market.
"It's always been a popular tool for window and curtain wall installations," says Tony Inman, president for Maeda USA. "The architects and designers keep designing with more glass and heavier glass."
Inman says he has also seen an increased demand for mini-cranes for applications like steel erection and steel installation.
"Especially when it comes to building expansions, or working on a building that already exists, on a roof, or new construction," he says, adding that it can be more efficient to use a mini-crane for some of these applications where a tower crane cannot reach, or to prevent unnecessarily tying up a tower crane on a jobsite.
Growing applications
In Western Canada, Leavitt Cranes has also experienced an uptick in interest in mini-cranes. The B.C.-based company has locations in the Vancouver and Calgary areas, as well as branches in Seattle and Mount Vernon, Wash. They are the Jekko importer for Canada and a distributor for Spyder-Crane in Washington and Oregon. They have a total of 32 mini-cranes in their fleet between rental and new equipment inventory, and they're being used for more than glass and steel applications.
"We've been in the mini-crane business since 2014 and I think it's picking up momentum," says Erick Zampini, general manager for Leavitt Cranes. "We're starting to see the concrete guys utilize these machines [usually for stripping or placing concrete forms], as well as cruise ships… definitely the main two would be glazers and the concrete companies."
Latta says bringing in larger capacity mini-cranes has expanded the number of applications where various types of contractors can use them.
"It's staying fairly busy," he says. "I think you're seeing a lot wider a variety of customers using them… before it was some steel and glazing companies, now were doing some installations in shopping malls for Christmas trees, sign companies, it's definitely growing for sure."
On some jobsites, zero emissions lifting systems are required. Jerry Clermont of Clermont Crane and Rigging Service Ltd. in Westbank, B.C. has DC battery-powered mini-cranes with 110-volt charging systems for these applications, and has rented his electric mini-cranes out for a variety of work with BC Hydro, small gas plants in Alberta, arenas in Calgary and Edmonton, and work on the MICA Dam, a large hydroelectric dam on the Columbia River located approximately 135 kilometres north of Revelstoke, B.C.
"DC battery powered with 110-volt charging systems makes for more friendly power systems," Clermont says. "There's always 110-volt around, it's a safe power."
With a lot of the mini-crane rental opportunities in his region being for maintenance work in sawmills, pulp mills and the odd plywood plant, there isn't a great deal of demand for electric-powered units. That said, Clermont sees a lot opportunity for battery-powered mini-cranes in the future for heavier manufacturing and big indoor applications.
"I like the zero-emission conversion on the small cranes, it's just an absolute natural, I think that works," he says.
Up & Down Lifting Solutions has also seen an uptick in battery-powered units. 
"We're definitely bringing in more battery-powered units than we have in the past," Latta says. "Fully battery powered units or dual units, a lot of these units are working indoors in malls. Obviously, the battery-powered ones have zero emissions and they're quiet… all of our large units we bring in now are diesel and battery powered units."
Continued growth expected
For any large maintenance type of application – such as maintenance for steel and lumber mills or gas plant turnarounds – mini-crane demand will become more prominent as the years progress, Zampini says.
"I think at the end of the day, the true benefit of these units is their compactness and versatility, and it's just about the product getting to the masses," Zampini says. "It does save cost in applications… it's about understanding what those applications are, and making sense of those costs."
Inman expects the market to continue to grow for unconventional lifting applications, particularly in construction and plant maintenance in Eastern Canada.
"It's all kind of trades that use them in construction," he says. "It's primarily oriented to inside buildings and confined areas."
"We're seeing a wider variety of customer base from glazers to steel erectors, to sign installers to landscapers – people are seeing them out there and trying them out," Latta adds. "It might not be an everyday use for these companies but a lot of the times it's an out-of-the-box solution to assist with their jobs."
---
Print this page